Farah Marks WND's 25th Anniversary On The Brink Of Extinction
Topic: WorldNetDaily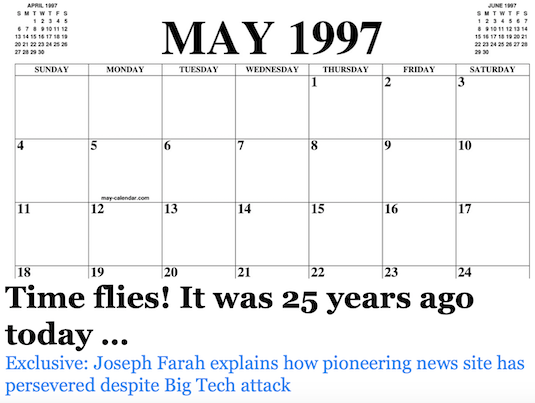 Joseph Farah did an early celebration of WorldNetDaily's then-upcoming 25th anniversary in an April 22 column:
What has WND been through over the last 25 years of being America's first independent, alternative online news enterprise? What HASN'T it been through?

We can't wait for May 4, 2022, when we celebrate our 25th anniversary, and begin our 26th year of continuous daily news reporting.

The path to a quarter century of operation has never been strewn with rose petals. No sir. Uh-uh. No way!

There repeatedly have been existential crises that have been overcome through prayer and bona fide miraculous solutions. Believe me – we're on the cusp of one now.
Farah then served up his usual self-hagiogrphy about WND's history, followed by the usual money beg.
When WND's actual anniversary rolled around in early May, Farah cranked out a three-column series to congratulate himself and play victim. In the first, Farah proclaimed himself a visionary for starting WND: "And I saw most of the establishment press did not. In fact, I saw a cozy, symbiotic and unhealthy relationship developing between the corporate press and state power. I vowed WND would never fall prey or be seduced by that temptation." Actually, Farah and WND were quite cozy with state power when Donald Trump was in the White House.
Farah went on to defend WND's embrace of Trump's Big Lie:
I warned it would result eventually in what happened in the 2020 election when it was rigged for Joe Biden. Without a free press allowed to blow the whistle on it, it was inevitable. And you remember how we just couldn't talk about the results of the election – even on Fox News. Everyone in the press said you couldn't talk about it. Big Tech refused to report any of it besides repeating the lie that it was "the most secure election in American history." It was not. WND would not go along with the charade. So we paid the price at the hands of Google and Facebook – and still are. UNBELIEVABLE! This is happening in the land that once believed in the sanctity of the Constitution!

It's a travesty. It's just not right.
In reality, we have repeatedly debunked WND's reporting on claims of election fraud, meaning that the folks who are "not right" here and committing a jopurnalistic "travesty" are Farah and WND.
In the second column, Farah rehashed his version of WND's innitial success: "We did it! We were successful. We did really good journalism. And we were the biggest, baddest, conservative and avowedly Christian online news publication in the world. We were at our pinnacle until 2016 – and over the next three years, we nearly became ... extinct."
In the final column, Farah rewrote history on WND's bogus obession with Barack Obama's birth certificate:
Do you remember who the president was just before Trump?

Yes, it was Barack Obama.
He took a dismal view of our No. 1 bestseller on him titled "Where's the Birth Certificate?" You may recall it came out when he was seeking reelection in 2011. We beat the drum on that issue for years, starting even before he was elected. Until the book's release, NO ONE COULD PRODUCE THE SIMPLE DOCUMENT – including the governor of Hawaii. But then Obama turned the search over to his favorite law firm – later to become notorious as his "fixers," Perkins Coie, later to become even more notorious for the hoax they conspired in for Hillary Clinton – the lies about Trump known as the "Russia, Russia, Russia" hysteria.
[...]
Other than WND, none in the press was skeptical about the birth certificate story. No one else even examined it – not in the blue state of Hawaii or elsewhere. We did. Perkins Coie got a free ride for the story – just for releasing the document.

Suspicious?

I think so.
Farah convewniently forgets that WND initially reported that the original birth certificate Obama's campaign released in 2008 that after a "separate WND investigation," it "found the document to be authentic." After people remembered that, WND added an "editor's note" to the article trying to argue that "authentic" didn't mean authentic.
Farah then went into his bogu sob story that "WND has been DEMONETIZED by Google and YouTube as of last year" and begged for money "to help us keep our dignity and honor for our continued commitment to publishing and persisting despite what we've endured over the last five years." Dignity and honor are not words people associate with WND's history of reporting.
Posted by Terry K. at 2:42 AM EDT