Fake News: WND Pushes Yet Another Discredited Voter Fraud Claim
Topic: WorldNetDaily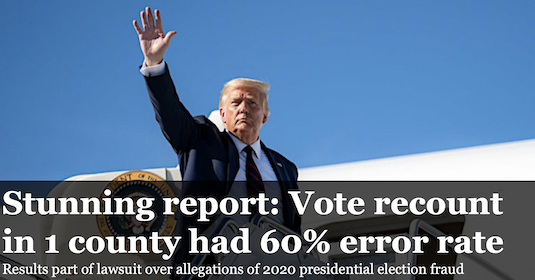 Bob Unruh has a "stunning" -- and bogus -- report in a July 14 WorldNetDaily article:
here were 100 lawsuits over the vote count for the 2020 presidential election, and essentially none was considered on merits as court after court cited technicalities in letting stand the suspicious results of Joe Biden's victory.

But now investigations and audits may be showing what actually happened, and whether, in fact, Biden was elected.

The Gateway Pundit has posted an announcement from VoterGA which is charging that evidence "from public records" has revealed Fulton County's hand count audit was "riddled with massive errors and provable fraud."

The allegations arise from VoterGA's review of images of mail-in ballots that a judge ordered the county to make available.

"The team's analysis revealed that 923 of 1439 mail-in ballot batch files contained votes incorrectly reported in Fulton's official November 3rd 2020 results," the report said. "These inaccuracies are due to discrepancies in votes for Donald Trump, Joe Biden and total votes cast compared to their reported audit totals for respective batches. Thus, the error reporting rate in Fulton's hand count audit is a whopping 60%."

[...]

VoterGA reported, "One type of error discovered involved duplicate results reporting for batches of ballots. The team found at least 36 batches of mail-in ballots with 4,255 total extra votes were redundantly added into Fulton Co. audit results for the November election. These illicit votes include 3,390 extra votes for Joe Biden, 865 extra votes for Donald Trump and 43 extra votes for Jo Jorgenson."
Fact-checker PolitiFact pointed out that VoterGA is run by a conspiracy theorist, Garland Favorito, then went on to debunk his claim:
In all, the roughly 5 million ballots cast in Georgia were counted three times, including once by hand. The hand recount uncovered more than 2,600 uncounted votes, most of which favored Trump, in Floyd County, Ga. But election officials said the mistake was due to human error, not voter fraud. In the end, the certified results showed Biden beating Trump by 11,779 votes in the state.

Alan Abramowitz, a political science professor at Emory University in Atlanta, said: "Given that these ballots were all recounted by hand, there is no chance that a large number of ballots were double counted."

University of West Georgia political scientist Thomas Hunter said none of the information provided by Voter GA proves that votes in the official certified results were counted twice.

[...]

A tweet says that in the 2020 presidential election, "4,255 ballots in Fulton County, Georgia, were scanned multiple times" and "3,390 went to Biden."
We rate the claim False.
In other words: WND has published even more fake news about the election. Not a good look when you're begging for money just to stay alive.
Posted by Terry K. at 12:17 AM EDT