CNS Distorts Biden's Tulsa Speech (And, Of Course, Insults Him)
Topic: CNSNews.com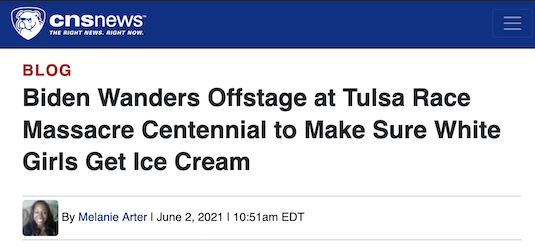 When President Biden went to Tulsa, Okla., to speak on the 100th anniversary of the Tulsa race massacre, CNSNews.com did what it usually does when coverng a Biden speech: cherry-picking his words in an effort to distort them and/or make him look like a doddering idiot.
Susan Jones complained under the headline "'Guys Like Me': Biden Finds Common Ground With Black Victims of White Supremacists":
President Joe Biden said he went to Tulsa on Tuesday "to shine a light, to make sure America knows the story" of a white mob viciously attacking a successful black community one hundred years ago.

Biden told the story in great, gory detail -- how "one night changed everything -- everything changed."
The "guys like me" remark that so offended Jonesgot relegated to a speech transcript in which BIden (accurately) noted that the Ku Klux Klan was anti-Catholic as well as racist.
Jones then groused that "Biden talked a lot about 'hate,' using the word at least ten times in his speech, as he reopened very old wounds" -- falsely suggesting that Biden was actually endorsing the massacre, which he most defintely was not, as the transcript Jones attached to her article demonstrated.
In another article, Jones seemed annoyed that Biden tried to relate the Tulsa massacre to modern events:
President Joe Biden spent much of Tuesday urging the nation to focus on hatred, especially white-on-black hatred, or what he called "the stain on the soul of America."

Biden was speaking in Tulsa, Oklahoma, commemorating a violent attack by a white mob on the black community of Greenwood 100 years ago.

He drew a "line" from what happened in Tulsa way back then to hatred that "exists today still."

He also asserted that "terrorism from white supremacy is the most lethal threat to the homeland today -- not ISIS, not al Qaeda -- white supremacists."
In her third article on the speech, Jones huffed that Biden brought up voting rights with a biased view of Democrat-promoted election reform bills:
On a trip to Tulsa where he focused on racial hatred and division, President Joe Biden brought up voting rights and the Democrats' push to pass H.R. 1, a bill that would relax voting rules and give the federal government more control over how states and localities run their elections.

Democrats continue to make the case that Republican state legislatures are specifically trying to suppress the black vote by requiring voter identification, for example, or by eliminating the unsolicited mailing of ballots to everyone on the voter registration rolls, which often are outdated.
Jones then went into right-wing-activist mode by defending Repubican-promoted election changes:
Texas is among the Republican-led states that has come under leftists' fire for election reforms it has so far been unable to pass.

As Gov. Greg Abbott described it, the bill, which he declared to be an emergency measure, would "prevent election officials from jeopardizing the election process and encouraging voter fraud through the abuse of mail ballots and drive-thru voting." The bill also would promote transparency at the polls by ensuring that poll watchers in Texas are not obstructed from observing the counting of ballots.

"Our objective in Texas is to ensure that every eligible voter gets to vote and that only eligible ballots are counted," said Governor Abbott in a March news release. "In the 2020 election, we witnessed actions throughout our state that could risk the integrity of our elections and enable voter fraud, which is why I made election integrity an emergency item this session."

(Biden in a news release called the Texas bill an attack on "the sacred right to vote" and an "assault on democracy.")

[...]

But to Biden and his fellow Democrats, rules like the ones mentioned above will suppress the vote, even though American voters have never had so many options for early voting, absentee voting, and in-person voting.
These articles were followed by one from Melanie Arter pushing CNS' "cognitive decline" narrative by noting that Biden talked to a couple of young girls about ice cream before the speech:
Before giving his speech in remembrance of the 1921 Tulsa race massacre - considered to be one of the worst incidents of racial violence in U.S. history - President Joe Biden wandered off stage to see if two white girls want ice cream.

As soon as the president was introduced, he stepped up to the podium, asked the predominantly African-American crowd to have a seat.

"Please if you have a seat, sit down, and I gotta make one check," he said.

The president walked over to the two little girls who were seated in the front row off to the side of the stage and talked to them and their mother.

He walked back on stage, and announced, "I just had to make sure that two girls got ice cream when this is over."

"Imagine how excited you'd be when you're 4? 5?" he asked their mother. "Almost 5 years old coming to hear a president speak. My Lord, in my faith we call that purgatory."
That's not news -- that's a political attack done to push a malicious partisan point.
Posted by Terry K. at 1:19 AM EDT