CNS Offers Negative Coverage Of Another Biden Speech
Topic: CNSNews.com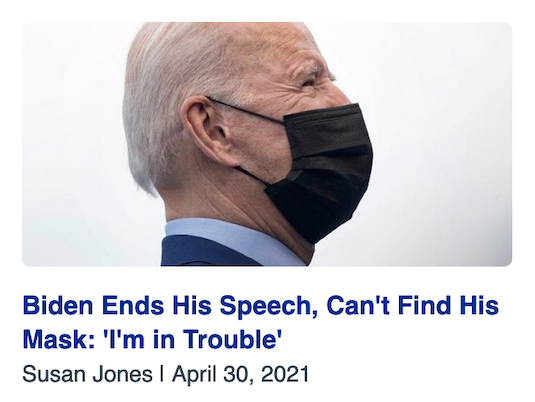 CNSNews.com penchant for negative, nitpicky and cherry-picked coverage of President Biden continued with a speech he have in Georgia the day after his address to Congress (which received the same treatment). The big news, as far as Susan Jones was concerned, was Biden misspeaking:
"End detention now! End detention now!" cried protesters who interrupted President Joe Biden's speech in Duluth, Georgia on Thursday.

"Abolish ICE," they shouted, holding up a large orange banner that read, "communities not cages." Biden could not read the banner because it faced the crowd.

Biden, distracted, paused several times to listen to the protesters. He also responded to them:

"I agree with you. I'm working on it, man. Give me another five days," Biden told them. "Folks, y'all know what they're talking about. There should be no private prisons, period. None, period. That's what they're talking about. And private detention centers. They should not exist. And we are working to close all of them."
Jones went on to complain that "his administration ordered ICE and Border agents to change their language as it relates to illegal aliens" -- which, of course, CNS framed as "censorship"; an April 19 article by Craig Bannister summarized in the headline: "Biden Censors ICE, CBP Vocabulary; Bans Words Like 'Alien' and 'Immigrant Assimilation'." Bannister further complained that the new terms suggest that, instead of expecting illegal aliens to 'assimilate' to U.S. laws and culture, American society must change in order to "integrate" and accommodate the newcomers."
Jones -- who along with the rest of CNS loves to cast aspersions on Biden's purported "cognitive decline" while pretending to be insulted that anyone ever dared to question Donald Trump's mental health -- cranked another article, insultingly headlined "Biden Makes It Clear: 'I Am Jill's Husband. It's Obvious to Everybody'":
After saying hello to the crowd, Joe veered into an (unscripted) wife joke:

"Well, I'm ready to go home, because she never says that to me at home. I was--this was worth the trip, hearing that. I am Jill's husband. It's obvious to everybody. I never get introduced as 'she's my wife.' I'm her husband. And, you know, I'm proud to be..."

Shortly after he started speaking, Biden was interrupted by -- and distracted by -- protesters screaming, "End detention now! Abolish private detention centers!" He tried to mollify them by agreeing with the need to get rid of private prisons.
Jones went on to whine that "Biden then launched into a recitation of his jobs program, his intention to halve child poverty through new tax credits and social programs, his climate change agenda, and his intention to raise taxes on the rich for the benefit of the poor -- and so much more. Biden made the same points he outlined in Wednesday night's speech to a sparsely populated, well-masked, joint session of Congress."
Jones served up one more negative smear, this one on Biden misplacing his mask:
"I'm looking for my mask. I'm in trouble," President Joe Biden explained to a drive-in rally in Duluth, Georgia on Thursday when he remained at the podium after ending his speech and after introducing Georgia's two senators.

Democrat Senators Jon Ossoff and Raphael Warnock waited awkwardly behind the president, as he scrambled to find his mask.

Nope, it wasn't in his speech folder. No, it hadn't fallen to the floor. Where could it be?

First Lady Jill Biden walked over to help her husband look, as the music ("Your love keeps lifting me higher") played on.

In a remarkable moment, Biden, helped by Jill, finally found his mask -- whipped it out of his pocket -- just as the song reached the line, "I'm so glad I finally found you."

Watch the video. It's funny.
Jones only thinks it's "funny" because it gives her an opportunity to depict Biden as a doddering old man -- something she would never have done of Trump despite his similar mock-worthy behavior.
Posted by Terry K. at 1:05 PM EDT