CNS -- Which Loves Taking Liberals Out Of Context -- Complains Eric Trump Was Taken Out Of Context
Topic: CNSNews.com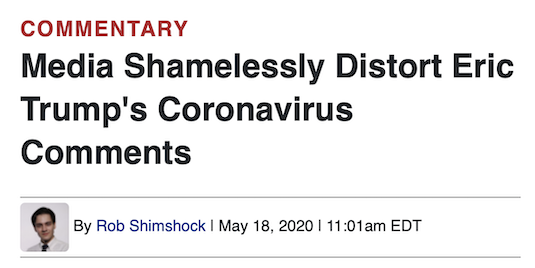 Patrick Goodenough is not the only CNSNews.com writer who is effectively working for the Trump-relection campaign by penning defenses of the president and his crew by pedantically explaining to us what they supposedly really said. Commentary editor Rob Shimshock provided his contribution to the genre in a May 18 item (accurately marked as "commentary" for once) in which he rushed to the defense of Eric Trump, who claimed in a interview that Democrats will "milk" the coronavirus pandemic until the November presidential election, "and guess what, after November 3rd, coronavirus will magically all of a sudden go away and disappear and everybody will be able to reopen -- they're trying to deprive him of his greatest asset" of speaking before large rallies. Shimshock complained:
But at least a few mainstream media outlets used the Fox News interview as an opportunity to misrepresent Eric Trump's opinions on the pandemic as it pertained to the upcoming presidential election.

[...]

Anyone with a basic understanding of context clues should understand that when the president's son says "magically all of a sudden go away and disappear," he is referencing politicization of the pandemic, not all incidences of the virus itself. He is arguing that, after the election, Democrats will quit advocating for the strictest lockdown policies to combat coronavirus, since there will be no presidential candidate Donald Trump whose speeches they want to squelch.

And yet this was not the mainstream media's portrayal of Eric Trump's remarks.

"Eric Trump Claims Coronavirus Is Democratic Hoax, Will 'Magically' Vanish After 2020 Election," screeched The Washington Post's headline, whereas Time huffed "Eric Trump Claims Social Distancing Is a Democrat 'Strategy' and COVID-19 Will 'Magically' Disappear After Election." The Raw Story published a similarly deceptive header.
If Shimshock is so concerned about deceptive headlines -- which is basically accurate since Eric Trump's direct words offered no distinction -- he might want to start inside the office of his employer. We didn't see Shimshock being outraged over, for example, a CNS headline like "Joe Biden: 'I Know a Lot of Weed Smokers'" that aggressively ripped a statement out of context to deliberately hold Biden up to ridicule. And Shimshock apparently had no problem when his employer ripped a comment by Democratic Sen. Chuck Schumer out of context to misleadingly portray him as threatening Supreme Court justices.
If Shimshock can't fix his own employer's journalism, he has no moral standing to attack the journalism of other outlets.
Posted by Terry K. at 2:55 PM EDT