Another Lie: MRC's Fondacaro Falsely Denies Trump, Conervative Media's Coronavirus Culpability
Topic: Media Research Center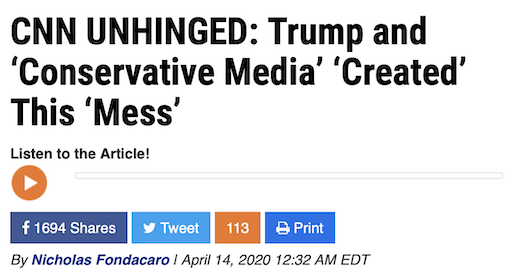 The Media Research Center's Nicholas Fondacaro was in full rant mode in an April 14 post:
CNN couldn't stand the heat so they bailed out of Monday's Coronavirus Task Force press conference and dove right into some unhinged hot takes. While they insisted President Trump was the one who was raging, the OutFront panel was clearly irate as they threw out a flurry of insults and unsupported accusations all in an effort to blame the over 23,000 coronavirus deaths in the U.S. on the President. And according to Jim Acosta, "conservative media" also had blood on their hands.

Towards the end of their almost 15-minute hate fest, Acosta blasted Trump for "downplaying the severity of this virus" for "a month and a half." "He was describing it as something like the seasonal flu, when it's not," he declared as he targeted right-wing media outlets.

He's trying to talk his way out of a mess he created himself; over the past 45 to 60 days both he and members of the conservative media were in this echo chamber saying to one another that the public did not have to worry about this," he sneered. Fact-check: LIE.

In the early days of the pandemic, the liberal media had decried Trump's move to ban travel from China as an overreaction. This collage of headlines tweeted out by conservative commentator Dan Bongino showed a USA Today headline from February 1 that proclaimed: "Coronavirus is scary, but the flu is deadlier, more widespread." And the Associated Press said on February 18: "Is the new virus more 'deadly' than flu? Not exactly."

Headlines such as those, played a key role in a video the President showed to the press at the start of the briefing. The video depicted the timeline of what the administration had done, while rubbing the media's nose in their terrible reporting. But according to chief national correspondent John King and media janitor Brian Stelter, it was an "anti-media" "propaganda video."
First: Given that the video in question was tweeted out by right-wing activist Bongino, that makes it very much a "propaganda video."
Second: By declaring something he doesn't like to be a "LIE," Fondacaro is lying again. Not that never actually disproves that statement wrong, just throws out whataboutism to cloud the issue.
There's an actual news organization documenting -- on video! -- how many times Trump downplayed the coronavirus threat.Further, Fondacaro didn't even have to ventyure out of the MRC offices to find conservative media downplaying coronavirus -- we documented how the MRC's "news" division, CNSNews.com, did exactly that, largely by parroting what Trump said.
Fondacaro surely knows all this, that Trump and conservative media did, in fact, contribute to the current crisis. But he's not getting paid to tell the truth -- he's getting paid to defend Trump and attack the media, and as a member of that very conservative media, he can't (or isn't permitted to for job purposesa admit any flaws. And such deliberately false bad-faith criticism is another reason why the MRC is losing credibility.
Posted by Terry K. at 7:44 PM EDT