CNS Unemployment Coverage Distortion Watch
Topic: CNSNews.com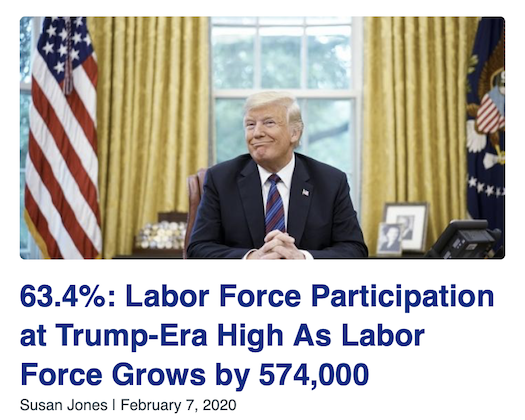 There was plenty of not-so-good news in January's employment numbers -- which CNS would have led its coverage with if the president was a Democrat. But because the president is a Republican, Susan Jones dowmplays them in her lead article:
President Donald Trump never misses an opportunity to plug the strong employment picture for which he takes credit, and today he earned more bragging rights:

The Labor Department's Bureau of Labor Statistics said the economy created 225,000 jobs in January, well above estimates. BLS says notable job gains occurred in construction, in health care, and in transportation and warehousing.

The number of employed Americans dipped in January to 158,714,000 -- down 89,000 from December's record high.

The unemployment rate ticked up a tenth of a point to 3.6 percent in January.

But the labor force participation rate reached a Trump-era high of 63.4 percent, up from 63.2 percent in December, because the civilian labor force increased by 574,000 in January, after accounting for annual adjustments to population controls, BLS said.*
The asterisk leads to a note that the end of the article that explains the labor force participation rate change seems to be driven by statistical changes.
Similarly, the headline on Craig Bannister's sidebar on Hispanic employment would have focused on the unemployment rate increasing if it was being written under a Democratic president. But because it's Trump, it reads "Hispanic Employment Sets Record, Labor Force Participation Rate Highest Since March 2010 in January."
Still, there was bad news even CNS couldn't paper over. A sidebar by editor in chief Terry Jeffrey actually began with the fact that manufacturing jobs declined by 12,000, but he was quick to spin that the U.S. "has gained a net of 26,000 manufacturing jobs" and that since Trump's election "manufacturing jobs have increased by 495,000."
Another sidebar by Jeffrey -- a loyal government-hating conservative -- conceded that The number of people employed by government in the United States grew by 177,000 from January 2019 to January 2020." But he made sure not to mention the name "Trump" in this article.
Even as CNS had to admit all this bad news about the economy, it had to pretend it wasn't the case when it came to reporting Nancy Pelosi's comments about the employment numbers. Bannister went into spin mode again:
Despite creation of 225,000 jobs, a 3.6% unemployment rate, a 3.1% increase in earnings over the past year, and extension of the longest economic expansion in U.S. history, House Speaker Nancy Pelosi (D-Calif.) declared the January employment numbers "the rot at the heart of the Trump economy."
Because manufacturing pro-Trump spin is more important at CNS than fully reporting the truth.
Posted by Terry K. at 2:34 PM EST
Updated: Friday, January 29, 2021 9:48 PM EST