WND Promotes Poll That Wildly Inflates Black Suport For Trump
Topic: WorldNetDaily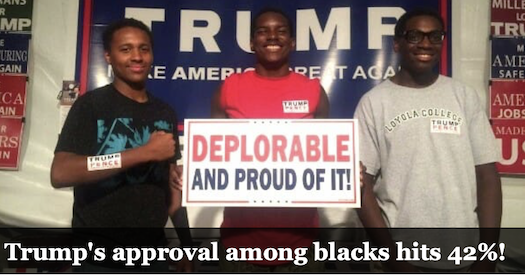 An anonymous WorldNetDaily writer gushed in a Jan. 31 article:
A new Rasmussen poll shows black voter support for President Trump has doubled in the last year to an astonishing 42%.

In November, polls by both Rasmussen and Emerson showed Trump had a remarkable 34% approval rating among black voters, compared to the 8% he received from blacks in the 2016 election.
Actual journalists, meanwhile, report something WND won't tell you: that the Rasmussen number has nothing to do with reality. The Washington Post explains:
Blacks have been the most solidly Democratic demographic bloc for decades. Polls show that Republican presidential candidates rarely get more than 10 percent of their votes. Trump did not break that pattern in 2016, with estimates of his black support ranging between 6 percent and 8 percent.

Republicans know that these abysmal figures constitute a huge head wind against any chance for Trump's reelection. Blacks compose significant shares of the voting population in the key swing states of Florida, North Carolina, Michigan and Pennsylvania. Even Wisconsin's small black population could be decisive given how finely balanced that state is.

[...]

As a result, many Trump backers have seized on anecdotal or cherry-picked evidence to show such a surge is happening. They note that some polls show Trump's job approval rating among blacks to be as high as 34 percent, while contend Trump's support from high-profile blacks such as Kanye West is helping him make inroads. A new book — "Coming Home: How Black Americans Will Re-Elect Trump" — making the conservative rounds argues that Trump received 21 percent of the black vote in Pennsylvania in 2016, and that he will receive 15 percent to 20 percent of that vote in 2020. Conservatives desperately want to believe this is true, and thus all too credulously accept these claims as fact.

Here's what the facts really show: Trump's job approval rating among blacks averages a mere 13.3 percent in three of the most recent polls that release breakdowns by race. Trump received an average of only 9 percent of the black vote against Joe Biden in surveys in four key swing states conducted by the New York Times and Siena College in November. And a recent Washington Post/Ipsos poll of blacks found Trump's position to be even worse. This poll is the only recent public poll that interviewed only black voters, and thus has a lower margin of error for them than the other polls mentioned above. It foundTrump had only a 7 percent job approval rating and gave him only 4 percent of the vote against Biden.
And another Post article pointed out: "More than 8 in 10 black Americans say they believe Trump is a racist and that he has made racism a bigger problem in the country. Nine in 10 disapprove of his job performance overall."
The Rasmussen poll is off in fantasy land -- but then, that's where WND is too.
Posted by Terry K. at 1:58 AM EST
Updated: Wednesday, February 12, 2020 1:59 AM EST