MRC Still Trying To Hide That Bret Stephens Is A Conservative (And That It Has a Grudge Against Him)
Topic: Media Research Center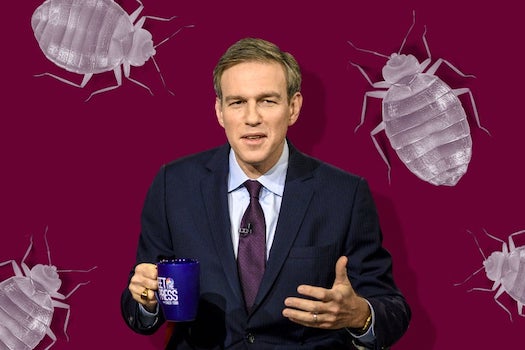 The Media Research Center's Scott Whitlock took a not-undeserved shot at New York Times columnist Bret Stephens for a disproportionate response to a critic on Twitter: "Don't be cruel to Bret Stephens. The New York Times columnist, who compared Republicans to murderous dictators and said the 'serpent' Ted Cruz would sell his family into slavery, doesn't like being called a 'bedbug.' Not only that, he'll complain to your boss if you do such a thing." Whitlock went on to complain that Stephens previously criticized members of the Trump administration.
What Whitlock didn't tell you: Stephens is a conservative writer the MRC used to love.
When Stephens moved to the Times from the Wall Street Journal in April 2017, his first column was dedicated to effectivly denying climate change. Then-blogger Tom Blumer defended Stephens against media reaction to the column (though he still complained that Stephens "gave far too much credit to the supposedly 'scrupulous' science"). But the relationship soured a couple months later when Stephens wrote a column criticizing the MRC for planning to give its annual William F. Buckley Award for Media Excellence to Fox News' Sean Hannity, declaring that giving an award named after Buckley -- who had nourished a brand of conservatism that was "fundamentally literary -- to a conspiracy-monger like Hannity ushers in the "post-literate conservative world." After Buckley's son, author Christopher Buckley, similarly objected to the award, Hannity suddenly had a scheduling conflict that kept him from receiving it. No award was given out that year, and no MRC outlet reported on the controversy even though it could've had a big scoop.
After that, the MRC had little complementary to say about Stephens. He's been dismissed by MRC writer Curtis Houck as a "Never Trump diehard" and a "Trump Derangement Syndrome sufferer," and MRC chief Brent Bozell and Tim Graham denounced Stephens for criticizing Cruz (while failing to disclose that Bozell supported Cruz's candidacy for president in 2016 and taht Graham is a serious Cruz fanboy).
When Stephens wrote a Times column a few days later doubling down on his reaction to being called a "bedbug," Graham showed up to drag him some more. Criticism of Stephens was pretty much universal by this point, but Graham added the requisite amount of right-wing whining: "Stephens also described Ted Cruz as a "serpent covered in Vaseline" who would sell his family into slavery. So he really doesn't stand on a moral high ground at all." No mention of Graham's Cruz fanboyism or the MRC's grudge against Stephens, and still no mention of the fact that Stephens is a conservative formerly in the MRC's good graces.
Posted by Terry K. at 8:08 PM EDT