MRC Gives PewDiePie's Racist Videos A Pass, Attacks ADL For Pointing Out The Racism
Topic: Media Research Center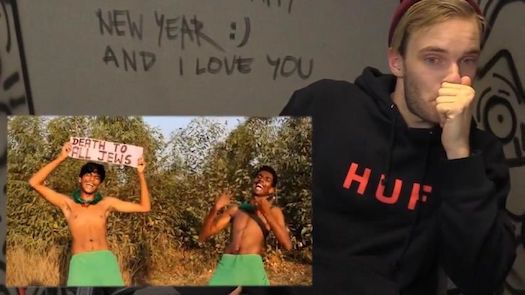 The Media Research Center finds a way to take the side of yet another right-wing extremist while bashing one of the most respected civil rights groups in the country. Alexander Hall writes in a Sept. 11 post:
The most popular YouTuber on the platform is attempting to gain favor with the organization that wrote no company "has any obligation to support his wide dissemination of hate speech."

PewDiePie, whose real name is Felix Kjellberg, announced on September 10 that he will donate $50,000 to the Anti-Defamation League. Because of his previous dust-up with the ADL, subscribers and fans are skeptical.

PewDiePie posted to Twitter that while media hitjobs against his politically-incorrect humor have not intimidated him in the past, "after the Christ Church[sic] travesty a few months ago, my own clash with MSM was manipulated as a tool for destruction," which in turn made him "[feel] responsibility to make changes." PewDiePie wrote that he while "making a donation to the ADL doesn't make sense to everyone, especially since they've outright spoken against me," but even so he added "I think it's important, this just isn't my fight anymore.

PewDiePie, while vague about his own genuine political beliefs, would sometimes indulge in offensive or absurd imagery purely for shock value. PewDiePie previously had a joint venture he established with Disney-owned Maker Studios in 2014. Disney, seeing his shock value humor as beyond the pale "severed ties with him" which in turn caused ADL CEO Jonathan Greenblatt to congratulate Disney for the move.
Note that Hall is curiously vague about exactly that "dust-up" was about -- or even what that "shock value humor" was that got him booted from Disney. Usually when people have "dust-ups" with the ADL, it's because they were acting in an anti-Semitic way. The Washington Post summed it up:
Kjellberg came under fire in 2017 after the Wall Street Journal reported on nine inflammatory videos that, with a combined 23 million views, included content seen as insensitive, racist and anti-Semitic. In one, two men laughed as they held a sign that said, "Death to all Jews." In another, a man dressed as Jesus said, "Hitler did absolutely nothing wrong," and in another, Kjellberg threw out the "Sieg Heil" Nazi salute during a mock video. A neo-Nazi website, the Daily Stormer, endorsed his videos. Whether Kjellberg intended to be racist or was kidding, they wrote, "The effect is the same; it normalizes Nazism, and marginalizes our enemies," as the New York Times reported.
Hall also curiously failed to explain PewDiePie's reference to the "Christ Church travesty." That's because the perpetrator of the mosque massacre in Christchurch, New Zealand, said "Remember, lads, subscribe to PewDiePie" during his livestream of the massacre. (It was a reference to a campaign among PewDiePie's followers to boost his subscriptions to keep him the most popular YouTuber.)
Hall then went on a tirade against the ADL and Grenblatt, repeating a National Review claim that the ADL has been led "off a partisan cliff" under Greenblatt.
The next day, Hall cheered when PewDiePie reneged on his pledge to give money to the ADL due to backlash from his followers, which he thinks is a good thing:
Many fans were dismayed when PewDiePie, YouTube's biggest individual creator, planned to donate to the censorious ADL. Today he has recanted after the backlash and says he will instead donate his money elsewhere.

Yesterday PewDiePie, whose real name is Felix Kjellberg, appeared to pledge $50,000 to the ADL, an organization that attacked him and has famously put out hit lists of politically-incorrect YouTubers worthy of deplatforming.

Today he uploaded a new video saying he has reconsidered the pledge, and claimed that while he wanted to act as a responsible creator, he "didn't know a lot of things that surfaced throughout this whole thing about the charity." He added that "these are things I would have known myself if I had just taken my time."
Again, Hall was silent on the offensive content of PewDiePie's videos -- which means that Hall has spent much more space attacking the ADL for criticizing PewDiePie's offensive content than telling his readers exactly what that content was.
Apparently, if you're a conservative or even appear to be one, you can get away with "offensive" content for "shock value humor" as far as the MRC is concerned.
Posted by Terry K. at 9:15 PM EDT