Newsmax Columnist Tries To Claim Ben Franklin Endorses Trump
Topic: Newsmax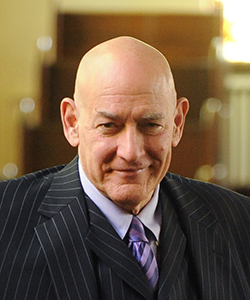 Stephen B. Presser's Aug. 27 Newsmax column carries the goofy headline "Ben Franklin Would Be All In for Trump 2020." He never quite gets around to making that case, though.
Much of Presser's column is devoted to riffing on Franklin's comment "A republic, if you can keep it" by claiming that republics are better than democracies and, by implication, that the Republican Party is better than the Democratic Party. He then rather abruptly shifts into partisan mode for a tired political argument:
In the Barack H. Obama administration, in a manner that departed from the rule of law, an effort was implemented to concentrate much more power in the federal government.

In that administration, a far-from-disinterested bureaucracy (especially in the Department of Justice (DOJ) and our intelligence agencies) came close, as we are now coming to understand, to deciding to shred the constitutional scheme of presidential selection, to promote a favored candidate (Mrs. Clinton) and, eventually to seek to depose a duly-elected chief executive (Donald Trump).

President Trump, and his administration now understand this, and he and they are determined to continue his ongoing effort to reverse the flow of power to the bureaucracy, or as they call it reining in "the deep state" or "the swamp."

The Democrats, whose candidates have their own plans for increasing taxes, restricting private property, implementing some form of socialism, and redistributing resources to meet the selfish needs of their core constituencies, fail to understand that their program would fatally undermine the Framers' design.

Republicans in 2020 are, in the President's new campaign slogan seeking "to keep America great," simply striving to preserve small "r" republican government itself.
Of course, there's little proof outside right-wing fever swamps that the Obama administration used the federal bureaucracy to stop Trump (Presser writes not only as if it existed and also that it succeeded), while there's growing evidence that Trump cares less about maintaining a republican form of government and more evidence that he's using the levers of goverment to enrich himself. And Republicans care less about republican government than about getting a corrupt man re-elected.
Presser won't tell you any of that, of course. In addition to the cumbersonmne title of "Raoul Berger Professor of Legal History Emeritus at Northwestern's Pritzker School of Law," he was also a "Visiting Scholar in Conservative Thought and Policy at the University of Colorado's Boulder Campus," whatever that is.
Presser can't make the case that Trump is a conservative or a small-government republican, so he will trot out the usual right-wing attacks against Democrats.
Posted by Terry K. at 8:35 PM EDT