Cruz Supporters At MRC Give Cruz A Pass On CNN And Ben Carson
Topic: Media Research Center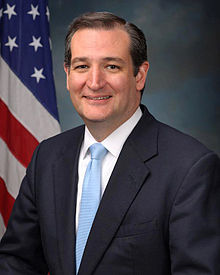 It's no secret that Media Research Center chief Brent Bozell is a supporter of Ted Cruz (and a hater of Donald Trump), and that attitude is bleeding into his organization as the MRC is working hard to shield Cruz from media criticism.
During the Iowa caucuses, Cruz's campaign spread a false claim that CNN reported Ben Carson had dropped out of the caucuses, encouraging Carson supporters to cast their votes for Cruz instead. While Cruz apologized to Carson, he also insisted that CNN reported that Carson was quitting the campaign -- which CNN did not do.
But don't expect to read about Cruz's blunder at the MRC, though. It has, however, complained that the media reported it, though -- Curtis Houck groused that news outlets reported on Donald Trump "accusing Ted Cruz of "stealing" the Iowa caucuses" through the false Carson claim.
A Feb. 4 post by Scott Whitlock touted how Cruz "school[ed]" an ABC reporter who asked him about it by retorting, "Is it a dirty trick to pass on your news stories?" Whitlock didn't mention that the information Cruz passed on was wrong.
And when Cruz falsely claimed again during the Feb. 6 GOP debate that it was CNN, not his campaign that got the Carson information wrong, the MRC remained silent on the issue, and Bozell didn't even highlight it on his Twitter feed.
By contrast, the MRC has published numberous posts defending Cruz. These include a couple apparently done to hide the controversy over his false statements about CNN's reporting on Carson -- a Feb. 4 post detailing what Geoffrey Dickens calls "the Worst Media Attacks on Ted Cruz (so far)" -- which misleadingly conflates news reporting with statements by opinion commentators -- and a Feb. 6 post by Tim Graham complaining that the Washington Post did an article about what Canadians think of Cruz, given that he was born there.
At one point Graham writes, "Birtherism is a viciously racist mental disorder when used against Barack Obama, but it's an amusing exercise in needling when it's used against a conservative." If that's what Graham really thinks about Obama birtherism, that's a change from the MRC's normal policy of letting the president twist in the wind on the issue by refusing to aggressively denounce it (at least until it became an issue for Cruz).
Posted by Terry K. at 7:23 PM EST