MRC's Graham & Bozell Cite People With Credibility Problems To Attack Media As Lacking In Credibility
Topic: Media Research Center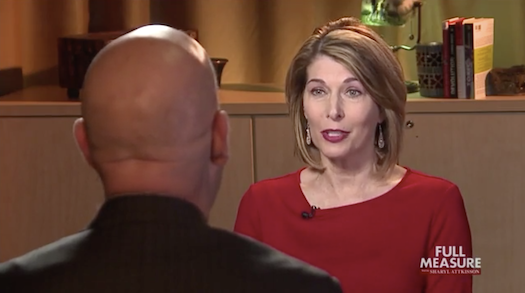 Tim Graham and Brent Bozell write in their Aug. 21 column:
On her weekly Sinclair TV show, "Full Measure," on Aug. 18, former CBS News correspondent Sharyl Attkisson interviewed pollster Scott Rasmussen about journalists' standing in the public square. They're about as trusted as Wikipedia, the website considered so unreliable that school teachers often tell students they can't cite it as a source for their research papers.

Only 38 percent said national political coverage is accurate and reliable, while 42 percent said it is not. "We asked about national political reporters. Are they credible? Are they reliable?" said Rasmussen. "And you know, a little more than 1 out of 3 people say yes. When we ask about Wikipedia, we get the exact same answer. So what's — what's happening is we have a world where people look at journalists like they look at Wikipedia."
But Graham and Bozell didn't tell their readers about the "massive credibility problem" of their sources.
We've documented how conservatives love Attkisson for her increasing right-wing reportng despite her pushing of anti-vaccine conspiracy theories -- never a good look for any reporter and continued to hide growing issues with her reporting. We've also noted how Attkisson's claim that the Obama administration had "compromised" her personal computer has been discred ited when an investigation showed the problem was actually a stuck backspace key. And if Attkisson wasn't a biased reporter, why has she written mostly for conservative outlets since leaving CBS? That includes her current employer, Sinclair, which is notorious for forcing its local TV stations to inject conservative bias in its newscasts, putting ideology before credibility.
Meanwhile, Rasmussen has his own credibility issues. The polls of the company he founded, Rasmussen Reports (he left in 2013), are rife with pro-Republican and pro-conservative bias, and it also tends to be among the least accurate.
Oh, and one other thing Graham and Bozell didn't disclose: According to a show transcript, Attkisson's show paid for that Rasmussen poll she's talking about. Seems relevant.
This is the best Graham and Bozell could do when finding people to challenge media credibility? Sheesh.
Posted by Terry K. at 11:23 AM EDT
Updated: Saturday, September 14, 2019 11:28 AM EDT