WND Revels In Being Able To Go Birther In Public Again
Topic: WorldNetDaily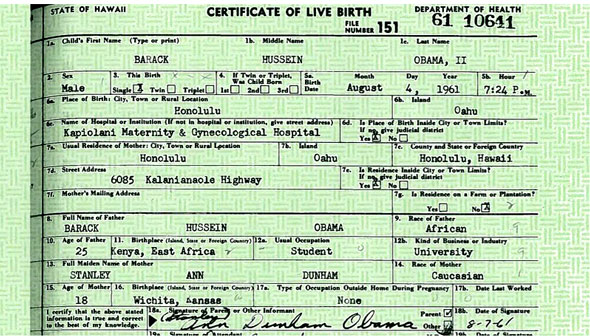 Now that Donald Trump's election made it safe to go birther again, WorldNetDaily -- in particular, reporter Bob Unruh -- has been totally embracing it.
After the last-gasp Dec. 15 press conference by ousted sheriff Joe Arpaio and Cold Case Posse chief Mike Zullo, WND's Bob Unruh has been rounding up various tidbits that didn't make the original presser:
A Dec. 25 article repeated Zullo's claim that "evidence suggests the involvement of the Hawaiian government in the alleged fabrication."
On Jan. 2, Unruh regurgitated Zullo's assertion that Hawaii officials "never confirmed the document's validity. The "information" about the birth, yes. But not the document itself."
Another Jan. 2 article by Unruh touted Arpaio promulgating his conspiracy under the guise of purportedly "schooling" a TV reporter.

Unruh also wrote a Dec. 28 article spining a poll founding that one-third of respondents don't believe Obama was born in Hawaii and that he was probably born in Kenya as proof of its reporting and not people falling for discredited conspiracy theories.
Needless to say, Unruh -- as WND has for years -- censored any mention of the copious evidence that discredits birther conspiracy theories and the sloppy work done by Zullo. Dr. Conspiracy, for example, pokes holes in Zullo's main claim, that the date stamp on Obama's birther certificate was at exactly the same angle asanother birth certificate issued around the same time.
Nor does Unruh question why Zullo has not publicly released the full analyses from Reed Hayes (who is a handwriting expert, not a digital document expert) and the Italian forensic laboratory he claims he relied on to make his conclusions.
It's so safe to be a birther again even WND editor Joseph Farah is doing it, after months of ducking the issue in order to avoid having to apply WND's Obama birther standards to Ted Cruz. Farah's Jan. 20 column cheered how the birther issue allegedly helped propel Donald Trump to the presidency:
Note what Trump said. He said the issue resonated with people. He added that it made him very popular.

Later in 2016 he answered a question from CNN by changing the subject: "Who cares right now? We're talking about something else, OK? I have my own theory on Obama. Someday I will write a book."

It was not until September 2016, two months before the election, that Trump said for the first time: "President Barack Obama was born in the United States."

Many assumed that was the end of the controversy.

But is it? Could there be more to the eligibility story than where Obama was born?

What if Obama, as president, cooked up a phony document 18 months before his re-election bid?

Just asking.

Keep in mind something Trump said in that interview with Jonathan Karl: "Let's just see what happens over time."
Throughout his column, Farah gives Trump a pass for both pushing unsubstantiated and unverified birther claims and for flatly declaring that Obama was born in the U.S. when absolutely nobody (including Farah) believes he meant it. All that matters to him that Trump raised the visibility of the issue, not whether any of it is true. (Remember, WND loves publishing fake news.)
Farah also forgot to mention the pertinent fact that he and birther extraordinaire Jerome Corsi were advising Trump behind the scenes on his birther crusade.
What we will see happen over time from WND is Farah and Unruh promoting Zullo's conspiratorial claims as undisputed fact, censor anyone who does dispute them and refuse to demand transparancy from Zullo's investigation. Heck, WND has so far been afraid to tell its readers that Arpaio's replacement as Maricopa County sheriff is disbanding Zullo's cold case posse.
Yes, Trump's election means it's safe for Farah and WND to be openly birther again. That doesn't mean they've become any less dishonest about it.
Posted by Terry K. at 1:13 AM EST
Updated: Sunday, January 22, 2017 1:17 AM EST