Fake News: WND Treats Trump Protest Hoax As Fact
Topic: WorldNetDaily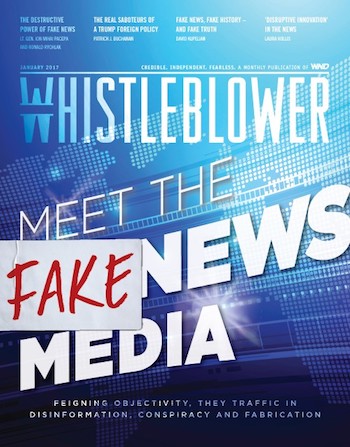 For a so-called news organization that purports to despise fake news, WorldNetDaily sure publishes a lot of it. Now it's published another one.
Bob Urnuh wrote in a Jan. 16 article, under the scary headline "VIDEO: ACID-ATTACK PLOT FOR TRUMP INAUGURATION":
An undercover video of leftists meeting in Washington, D.C., has exposed a well-advanced plot to use foul-smelling butyric acid to disrupt this week's "Deploraball" event in honor of Donald Trump's inauguration.

The video released by James O'Keefe's Project Veritas showed the rabidly anti-Trump coalition already had scouted the National Press Building, and members were confident they could release acid there "with no negative consequences for our side, nor any collateral damage."

The video exposing the plot includes statements from several members of the group DC Anti-fascist Coalition, which is allied with other far-left groups plotting to prevent Trump's inauguration as president.

Project Veritas said the group plotted to deploy butyric acid at the National Press Club during the Deploraball event scheduled for Thursday.
Just one problem: Project Veritas was punked. The Washingtonian explains that the the Anti-fascist Coalition made up the story to flush out someone they (correctly) suspected was a Project Veritas mole. The goal was to feed the suspected mole a story about "the kind of things high-school students would want to plan involving stink bombs and sprinkler systems."
Unruh knew this story was a hoax. How? He noted that in his story -- but not until the 25th paragraph, spending the entirety of his article portraying the hoax as real.
That's the very definition of fake news -- and WND has done it yet again.
We have met the "real fake news media," WND, and it is you.
Posted by Terry K. at 2:57 PM EST