WND's Cashill Still Making Excuses for Zimmerman
Topic: WorldNetDaily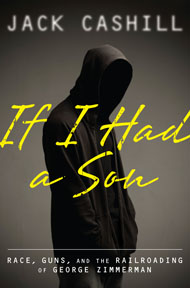 Jack Cashill's bias in the death of Trayvon Martin has been simple: Martin's extracurricular behavior should be held against him even though there's scant evidence it was at play in his death, while his shooter, George Zimmerman, cannot be held accountable for his actions because he's the real victim.
That double standard is all too clear in Cashill's Nov. 27 WorldNetDaily column. In it, he complains that the Orlando Sentinel ran a "tasteless" article speculating on cast members for an imaginary Trayvon Martin movie, making sure to whine that "I can assure you that there has been no bidding war for the rights to my book." Cashill, meanwhile, has endorsed murder, which is arguable even more tasteless than anything the Sentinel could come up with.
Cashill goes on to complain that "the paper chose to know as little as possible about the real Trayvon Martin." He then launches yet another defense of Zimmerman, declaring that the five guns seized from Zimmerman's house after his arrest for domestic violence were "legally owned" and was not an "excessive" number, adding that thanks to the Sentinel, Zimmerman was "the most openly hunted man in America since Dillinger."
Of course, Cashill doesn't mention that his unquestioning defense of Zimmerman as a civil rights martyr even as Zimmerman becomes increasingly violent -- just the latest example of Cashill's soft spot for killers -- is probably the reason nobody's interested in optioning his book for a movie.
You'd think Cashill by now had gotten to the point where Zimmerman is no longer defensible. But he did write a book defending the guy, and now he has decided he won't cut his losses, choosing against all reason to continue lay in that particular bed he made.
Posted by Terry K. at 6:59 PM EST