WND's Movie Reviewer: Life Under Obama Is Just Like 'The Hunger Games'
Topic: WorldNetDaily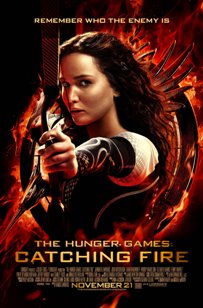 Drew Zahn uses a Nov. 24 WorldNetDaily review of the new "Hunger Games" film to rather desperately draw a parallel to today:
If our elected officials scented in the popularity of the first "Hunger Games" a wave of outrage against the tyranny of centralized government, wait until they get a whiff of this one.

[...]

Here, then, is the point that's suddenly so timely for today. The movie is well made – really well made. Audiences feel the rage and betrayal the characters feel, the stirring of revolution … when the overreaching central government breaks its promises.

And here we are in modern-day America, where a smug, isolated capital is filled with power-hungry politicos, the chief of which said he could be trusted with control of our health care because he promised, "If you like your health coverage, you can keep it."

Oops.
then again, Zahn also thinks Obama is a Decepticon, so why wouldn't he think this?
Posted by Terry K. at 3:16 PM EST