WND's Latest Discredited Source on Syria
Topic: WorldNetDaily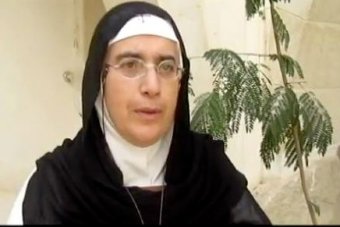 WorldNetDaily loves to hide behind unverifiable anonymous sources to attack President Obama and bolster thuggish regimes in Syria and Russia. But the very few named sources it uses -- i.e. Walid Shoebat and Larry Johnson -- lack credibility as well.
Another of these highly dubious sources shows up in an unbylined Sept. 11 WND article:
Everyone in Syria, but especially its Christian population, is endangered by the growing surge of violence and atrocities perpetrated by the rebels who are challenging President Bashar al-Assad, according to a Catholic nun who has served community members in Syria for more than two decades.

[...]

Mother Agnes Mariam el-Salib, the mother superior of St. James Monastery in Qara who previously has served as a source of information for WND, describes the horrors to which she was witness. One was the threat from Muslims that Christians of Maaloula would be beheaded if they did not convert to Islam.

In a question-and-answer interview with RT recently, she voiced doubt about the validity of rebel statements protesting the Aug. 21 gas attack near Damascus and expressed outrage at the "massacre" of civilians by members of Jabhat al-Nusra, the most influential of the rebel groups fighting Assad.
But Mother Agnes is simply not credible. The New York Times points out that she is "a Carmelite nun born in Lebanon who is frequently quoted in the Russian media, and by American critics of Islam, defending the Assad government." The Times goes on to deconstruct her claims:
Mother Agnes has not presented any concrete evidence on the attack and was not nearby when it was carried out. (Her monastery is north of Damascus, not near the site of the attack.) Instead, she has written a rambling, 50-page analysis of the video posted on opposition YouTube channels that contains nothing but speculation that some or all of it was staged.

It seems likely that the nun's idiosyncratic study of the video evidence would have attracted little attention, but for the fact that she was subsequently presented as an expert witness to events by Russia Today, the Kremlin-owned news network that is promoted on the Russian foreign ministry's Web site.

In an interview with RT two weeks ago, Mother Agnes said that she was convinced, based on her study of the footage posted online, "that the whole affair was a frame-up. It had been staged and prepared in advance with the goal of framing the Syrian government as the perpetrator."

"The key evidence is that Reuters made these files public at 6:05 in the morning," she continued. "The chemical attack is said to have been launched between 3 and 5 o'clock in the morning in Ghouta. How is it even possible to collect a dozen different pieces of footage, get more than 200 kids and 300 young people together in one place, give them first aid and interview them on camera, and all that in less than three hours? Is that realistic at all?"

However, a close look at what appears to be the early Reuters report Mother Agnes cited as evidence suggests that her suspicion was ill-founded. The report's time stamp indicates that it was posted online on Aug. 21 at "6:05 a.m. EDT," or Eastern Daylight Time, the time zone used in New York, which is seven hours behind Syria. That means that the report, based on video of the attack's victims, appeared just after 1 p.m. in Syria that day — 10 hours, not 3, after the first video of the victims was posted online.
WND won't tell you any of this, of course -- like Mother Agnes, it too is on the side of Assad and Putin.
Posted by Terry K. at 12:10 AM EDT