Cliff Kincaid's Favorite Dictators
Topic: Accuracy in Media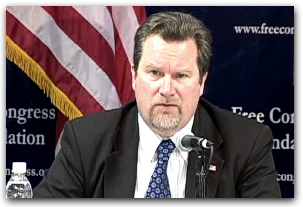 Cliff Kincaid has a new favorite dictator, and it's Syria's Bashir Al-Assad, credulously quoting everything he says and insisting that President Obama is the one with the credibility problem:
In his interview with Charlie Rose, Syrian President Bashar Al-Assad said there was "not a single shred of evidence" that his regime used chemical weapons. During his Tuesday night speech to the nation, Obama offered none. As the Associated Press noted, "President Barack Obama voiced his conviction Tuesday night that Syrian President Bashar Assad was to blame for deadly chemical attacks against civilians, but again he offered no proof."

Assad said the Obama Administration "doesn't have" the evidence. "If they had it, they would have presented it to you as media from the first day," he said.

[...]

Obama also said on Tuesday that "The Assad regime has now admitted that it has these weapons, and even said they'd join the Chemical Weapons Convention, which prohibits their use." The implication was that Obama's threats forced the Syrians to make that admission.

In fact, Syria admitted having these weapons over a year ago, and pledged not to use them in the civil war. Syria's then-Foreign Ministry spokesman, Jihad Makdissi, told reporters, "Any stock of WMD or unconventional weapons that the Syrian Army possesses will never, never be used against the Syrian people or civilians during this crisis, under any circumstances."
Kincaid also quotes "Former CIA officer Larry Johnson" as claiming that "My friends in the CIA are still around and they are now warning me that both the United States and the United Kingdom know that Bashar Assad is not responsible for the incident on 21 August that killed and maimed Syrian civilians." But then, Johnson also claimed he had a Michelle Obama "whitey tape."
Kincaid followed that up with a column the next day bashing Obama for purportedly arming Syrian rebel "terrorists." Gut Kincaid made no mention of his stealth dictator crush, Assad ally Vladimir Putin of Russia. And Kincaid is certainly not going to mention how horrible he used to think Putin was.
Posted by Terry K. at 8:24 PM EDT