MRC's Jean-Pierre-Bashing, Doocy-Fluffing Watch
Topic: Media Research Center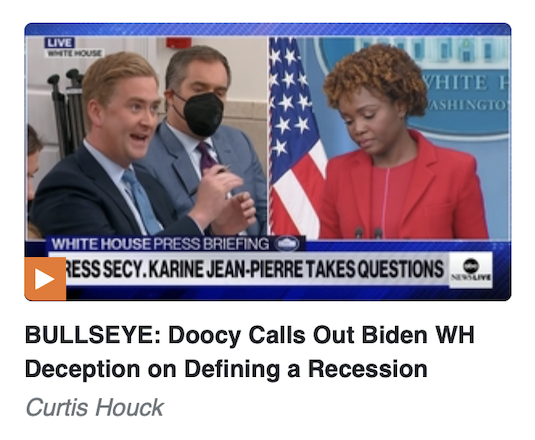 The Media Research Center's malicious narrative of new White House press secretary Karine Jean-Pierre as an incompetent diversity hire continued with attacks at the end of July. Kevin Tober subbed for Curtis Houck on the July 25 briefing:
For the second press briefing in a row, the White House took a beating from reporters due to President Joe Biden's personal physician hiding from hungry reporters' questions on the state of Biden's COVID treatment, recovery, and overall health. You know it's bad when reporters from CBS News, The New York Times, and NewsMax all grilled the White House COVID-19 response coordinator Ashish Jha on the administration's lack of transparency.

Due to Biden's bout of COVID, and the fact that White House press secretary Karine Jean-Pierre can't take questions from the media without stepping on rakes, Jha was trotted out to handle all questions related to Biden's illness and other public health-related topics.
Of course, Tober served up the obligatory Doocy-fluffing:
Later on in the briefing, Fox News White House correspondent Peter Doocy brought up the subject again by asking if "this a situation where Dr. O'Connor does not want to come and talk about the President's health or where the President doesn't want Dr. O'Connor talking about his health?"

In response, Jha claimed he's "spoken both to the President and to Dr. O'Connor on an ongoing basis and neither of them has expressed a preference. Dr. O'Connor at any point has not said he doesn't want to come and the President has not at any point said he doesn't want Dr. O'Connor to come. So, I would say neither of those is correct."

Proving once again why he's one of the best reporters in the briefing room, Doocy went after Biden's photo ops taken during his time in quarantine:
We don't recall the MRC complaining about the obviously staged photos taken by the Trump White House when Donald Trump had a bout of COVID.
Houck returned to attack Jean-Pierre anew over the July 27 briefing by quibbling over the definition of a recession:
Wednesday's White House press briefing wasn't smooth sailing for Press Secretary Karine Jean-Pierre (as most if not all are for someone in way over their head) with Fox's Peter Doocy and a select few others reporters who pressed her on the Biden administration's disinformation campaign to redefine what a recession is ahead of what's expected to be a dour second quarter number on Thursday.

Doocy began with the premise that the American Rescue Plan contributed to inflation, but Jean-Pierre wasn't having it. Instead, she claimed Biden came into office facing a litany of crisis, but he still "turned the economy back on" and created "a stronger labor market" "outside factors."

Doocy used her answer to then corner her on defining a recession: "If things are going so great, though, then why is it that White House officials are trying to redefine recession?"

Jean-Pierre predictably walked right in to the trap, insisting "we're not redefining a recession," leaving Doocy to hit back:
So Doocy is a layer of "traps," not an actual reporter. Got it.
Tober returned for even more Doocy-fluffing over the July 28 briefing:
During Thursday's train wreck known as the White House press briefing, Press Secretary Karine Jean-Pierre got demolished by Fox News White House correspondent Peter Doocy after Jean-Pierre accused Republican governors of using migrants as political pawns by bussing them to Washington D.C. The always floundering Jean-Pierre mumbled and stumbled her way through multiple grillings by Doocy.

The first question out of the gate was whether "President Biden ask[ed] President Xi anything about getting to the bottom of the origins of COVID." Naturally, this simple question completely flummoxed Jean-Pierre who began frantically flipping through her notes in her binder for an answer to Doocy's question.

[...]

Changing topics, Doocy asked "The DC Mayor sent the White House a letter asking for National Guard help with migrants who have been bussed here from Texas and Arizona. Is the President gonna approve that request for the National Guard?"

In response, Jean-Pierre ducked by referring him to the Department of Defense. She went on to whine how "Republicans using migrants as a political tool, and that is shameful, and that is just wrong."

[...]

Doocy shot back: "There's a process and they come to a big city and now the Mayor says she needs the National Guard?"

Realizing she's running out of non-answers, Jean-Pierre replied: "That's because Republicans are using, they're using migrants who are coming here for who knows? Because they're dealing with humanitarian issues back in their country. They're coming here for a better life and they're being used, Peter, they're being used by Republican governors. That is what's happening."

Doocy managed to get in one question before she frantically called on another reporter to get out of Doocy's line of questioning: "Does any of this make the President want to say 'this is causing a lot of burdens on small cities, big cities, maybe I should just close the border?'"
Fox News must have given Tober a nice little kickback for spending an entire post fawning over Doocy (and, of course, denigrating Jean-Pierre). He earned another one for even more Doocy-worship the next day:
On Friday's White House press briefing, Press Secretary Karine Jean-Pierre got into another battle with Fox News White House correspondent Peter Doocy because of her apparent inability to answer simple questions put to her.

The first question from Doocy came in light of comments made by the former chief editor of the Chinese state media outlet the Global Times, who suggested China would shoot down House Speaker Nancy Pelosi's plane if she visits Taiwan.

This is an extremely serious situation, so Doocy attempted to get a response from the White House: "an official who is associated with Chinese state media is suggesting that if Speaker Pelosi tries to go to Taiwan her plane could be shot down. Does the President have a response to that?"

Jean-Pierre's response was that this was "something that we're just not going to speak to" adding that it's "a hypothetical, we are not we're just not going to speak on her schedule."

You would think this would be a topic the White House would make a statement about since if China shot down the plane of the woman second in line for the presidency it would lead to a war between the United States and China.

Realizing he's not going to receive an answer from Jean-Pierre, Doocy switched gears to the news that the Biden administration quietly approved construction of former President Trump's border wall in Arizona asking "why is the Biden administration building a border wall in Arizona?"

[...]

Doocy came prepared as always because he dug up comments made by Jean-Pierre from 2019 in which she called the border wall racist, and now three years later she's in an administration that is attempting to finish building part of the wall:

"Is this racist? Because in 2019 when the former guy was proposing a wall, you said that it was his racist wall. So how is this any different? I'm just having a hard time understanding how this is any different" Doocy asked.
Doocy will be happy to have Tober's writeups in his scrapbook.
Posted by Terry K. at 9:41 PM EDT