CNS Whitewashes Crowder's Homophobic Attacks
Topic: CNSNews.com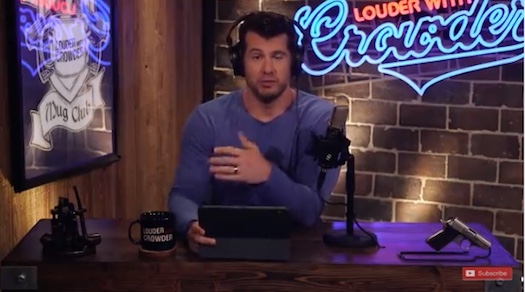 Cody Leach started off a June 3 CNSNews.com blog post in mostly promising fashion, reporting that "Conservative comedian Steven Crowder has found himself under investigation by YouTube after accusations of racism and homophobia surfaced over the weekend from Vox host Carlos Maza, who hosts the media literacy series "Strikethrough."
But Leach then drops the ball, noting that Maza said that "dvery single video" Crowder made purporting to debunk his series "has included repeated, overt attacks on my sexual orientation and ethnicity" -- but then doesn't cite any examples, stating only that Maza's allegation was followed by "a long string of tweets."
In fact, Maza detailed that Crowder has mocked him as a "lispy queer" and worn a "Socialism Is For Fags" T-shirt during his anti-Maza attacks, as well as attacking his ethnicity by calling him a "anchor baby," and that Crowder's followers have doxxed him. Maza also stated that his ire is mostly targeted at YouTube for not enforcing its anti-harassment policies against Crowder, which he claimed was out of fear that it "get them accused on anti-conservative bias."
Instead, Leach played into that right-wing narrative -- which CNS' owner, the Media Research Center, pushes despite the fact it's not actually true -- by uncritically allowing Crowder to play the victim, writing that Crowder "tweeted a video with the caption "Vox is trying to ban my channel." The tweet was followed by several tweets and retweets of similar content." Leach weirdly didn't quote from Crowder's video either.
Also weirdly, neither Leach nor anyone else at CNS has done a follow-up on this story. YouTube has since demonetized Crowder's videos, meaning he can no longer make money off them though he is still allowed to post them.
Posted by Terry K. at 11:43 AM EDT
Updated: Sunday, June 16, 2019 11:46 AM EDT