WND Takes Anti-AOC Trolling Seriously
Topic: WorldNetDaily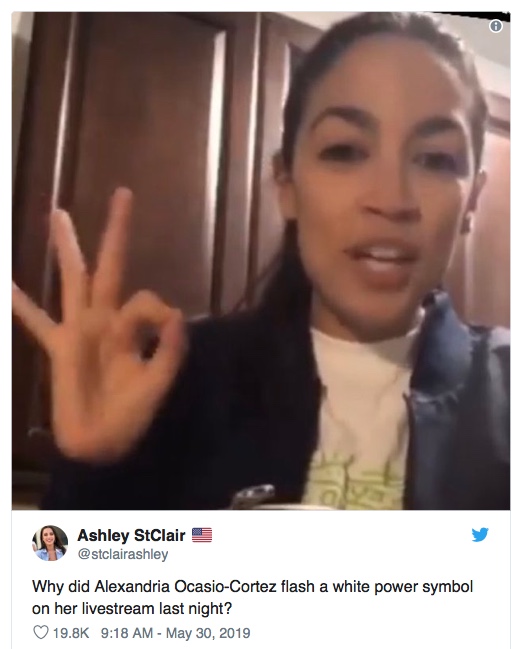 An anonymously written May 30 WorldNetDaily article intoned:
Twitter news aggregator Twitchy has caught socialist Rep. Alexandria Ocasio Cortez, D-N.Y., flashing the "white power symbol."

You remember, that symbol that got a Chicago Cubs fan banned from the team's stadium for life.

It was Ashley StClair who posted the image of Cortez online, asking, "Why did Alexandria Ocasio-Cortez flash a white power symbol on her livestream last night?"

And Twitter users HillReporter provided the image for which a Cubs fan was banned from Wrigley Field.

JWF even provided an earlier image of Cortez, with apparently the same symbol.

Twitchy reported some news outlets find the gesture so extreme that they pixelate it.

It's just the latest controversy surrounding the newcomer to Congress from New York.
Except for one thing: WND -- and Twitchy -- apparently got played.
WND lifted its article from the right-wing attack site Twitchy, which similarly published screenshots taken from Twitter of Ocasio-Cortez out of context to also declare that "according to the MSM," she was flashing a "white power symbol." Twitchy writer "Greg P." went on to chortle: "Or maybe it's the symbol for wokeness? HA HA!"
Both Twitchy and WND fell for a big trolling operation created by posters at a comment board called 4chan, which decided to push the idea that the OK symbol was secretly a white power symbol in a way that would force media outlets to cover it.
WND botching this story doesn't exactly inspire confidence that its reporting should be taken seriously.
Posted by Terry K. at 1:36 AM EDT
Updated: Sunday, June 16, 2019 8:48 PM EDT