WND's Kupelian Still Trying to Shame Evangelicals Into Voting for Trump
Topic: WorldNetDaily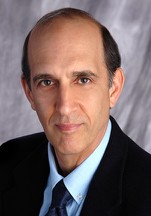 The mind of WorldNetDaily editor is still in major snappage mode as he continues to convince himself to abandon his moral principles -- and try to shame others into doing the same -- and vote for Donald Trump. Witness this Sept. 29 WND article, in which Kupelian concedes yet again that Trump is evil, to the point where he's effectively likening Trump to Stalin (but Hillary Clinton is Hitler):
Both Hillary Clinton and Donald Trump are very flawed candidates and flawed human beings, which means Americans of good conscience should refuse to vote for either one of them, right? After all, choosing the lesser of two evils is still "choosing evil." Right?

Wrong, says award-winning journalist David Kupelian, who goes so far as to call such thinking "deluded."

During a recent appearance on theDove TV, Kupelian mocked those who proclaim, "I don't like either one of these people; I'm not going to vote."

"That is – pardon me – immature, infantile thinking," Kupelian told host Perry Atkinson on the program "Focus Today."

Kupelian, WND's managing editor and the best-selling author of "The Snapping of the American Mind," was discussing a recent viral commentary he wrote, titled "Trump, Clinton and 'the lesser of 2 evils' foolishness."

During wartime, Kupelian said during the TV broadcast (watch it below), conscientious leaders are daily forced to choose between the lesser of two evils. For example, he said, when the U.S. bombed Hiroshima and Nagasaki during World War II, killing over 200,000 people, President Harry Truman was choosing the lesser of two evils. The greater evil would have been to invade Japan, which would have caused much more death on both sides – an estimated 400,000 to 800,000 American fatalities and up to 10 million Japanese deaths.

Likewise, the U.S. allied with Stalin during World War II, even though he was one of history's worst mass murderers. But at the time, partnering with Stalin represented the lesser of two evils, since it helped America defeat Hitler's cancerous spread.

So, squeamish Americans need to show a little moral courage and vote for the "lesser of two evils" this November, according to Kupelian, who says it's pointless to waste a vote on a third-party spoiler candidate.

Of Trump and Clinton, Kupelian said, "We're going to have one of these two people, and one is clearly better than the other, and we need to face that and stop being babies."
And, once again, Kupelian turns on the shame:
"To look at the current election between Trump and Clinton and to conclude they're both equally evil, now it's not so much an issue of the lesser of two evils argument, it's more a matter of delusion," Kupelian argued.

He said there's no way a rational person can regard Trump and Clinton as equal options. Clinton promises to continue the disastrous policies of Barack Obama that are crippling America both domestically and around the world, while Trump promises to move the country in a new direction by putting America first again.

"Somebody who makes the case that these are equally evil, I say, respectfully, there's something seriously wrong with their perception," Kupelian stated.

He warned evangelical Christians not to sit out this election as in 2012, when 42 percent of them didn't vote. Evangelicals represent a large natural Republican constituency, and Kupelian urged them to realize a President Hillary Clinton would be antithetical to their values.

"Somehow their emotions have gotten in the way," said Kupelian, "because this is a common sense thing. We have two candidates, you pick the better candidate, you vote for him, otherwise you're saddled with the worse candidate, and you are condemning your children and your friends' children to grow up in a country – you're bequeathing to them a different country than the one your parents gave you. It's not fair."
Kupelian is still insisting, without offering evidence to back it up, that "There is goodness in Donald Trump," but he then adds, "I don't know if there is or not in Hillary; I'm not going to condemn her. I don't know where she's going when she leaves this world, but right now, just taking her at her word, at what she says she'll do, she will destroy the country."
Kupelian is transparently lying about not wanting to condemn Hillary -- he is the managing editor of a website where condemning Hillary has replaced obsessing over Barack Obama's birth certificate as its main editorial mission.
Posted by Terry K. at 8:26 PM EDT