WND Defends The Honor of Meaningless Online Polls (For Trump, Of Course)
Topic: WorldNetDaily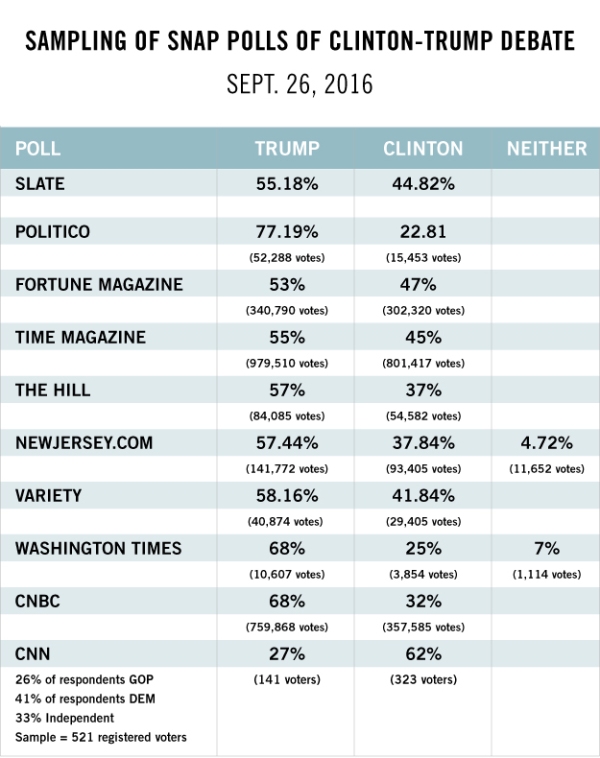 After last week's presidential debate, WorldNetDaily did its best to spin things Donald Trump's way, even insisting that unscientific online polls showing Trump won actually meant something.
Jerome Corsi insisted that "snap polls after the debate Monday night" showing Trump won the debate "validate[d]" Trump's debate plan to "hold back on aggressive attacks on opponent Hillary Clinton, focusing, instead, on projecting a presidential bearing." He even included in his article a chart showing various polls (it's unclear whether WND or the Trump campaign made it), but the only scientific poll included in the chart is the only one that Clinton won.
An unbylined Sept. 30 WND article insisted that "While Trump and Clinton fight for voters in the battleground states, most unscientific snap polls conducted online showed Trump as the overwhelming winner of the presidential debate," followed by a screenshot of an unidentified poll in which Trump got 97 percent of the vote. The oddly worded question asking "Who will you be voting for in the upcoming United States presidential election?" tells us that it was probably not a U.S.-based website.
That same day, WND's Bob Unruh trotted out an old friend to not only defend the honor of meaningless online polls but assert that they show Trump will win the election:
While spot polls are not scientific, author Brad O'Leary of the O'Leary Report believes they do tell a story.

He highlighted on Friday several results "that the national media ignores."

"The national polls clearly say that Hillary Clinton was a major winner" of this week's presidential debate. "Spot polls tell a different story. Spot polls and focus groups are a little harder to analyze, but they tell a clear story.

"We can only find two media-related focus groups. One took place in Pennsylvania sponsored by the Pittsburgh Gazette. Clearly, Hillary Clinton lost ground among the independents and Democrats who were watching. The second focus group was in North Carolina sponsored by the Charlotte Observer. Unlike Pennsylvania, it did not show Trump gaining ground, but it showed Hillary Clinton losing ground. Governor Johnson was the winner with a couple of Clinton donors saying they were now supporting him," he said.

"Three polls that are indicative of Republican precincts are The Drudge Report, Washington Times and Breitbart. In The Drudge Report, readers chose Trump 81 percent to 18 percent for Clinton. In the Washington Times, the poll showed Trump won 71 percent to Clinton's 22 percent, with 35,000 people responding. In Breitbart, with 168,000 people responding, Trump took 76 percent to Clinton's 24 percent.

"Clearly, these three polls indicate that by election day, Trump is likely to have all the Republican votes he needs with the exception of philosophical whiners who can't believe he's not using their philosophy," O'Leary explained.
You might remember O'Leary as a onetime WND author who was paying Zogby to do skewed polls that pushed his anti-Obama agenda, so he's predisposed to like polls, scientific or not, that reinforce his right-wing views.
Posted by Terry K. at 7:56 PM EDT