Farah Lies About WND And Its Mission (Wait, It's A 'Christian' Website Now?)
Topic: WorldNetDaily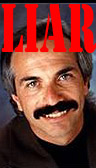 Joseph Farah used his March 29 WorldNetDaily column to rant about how he's going to stop patronizing the various business interests that allegedly blocked the signing of an anti-gay law in Georgia, which he insists really isn't anti-gay because "Nowhere in the bill does it mention 'gay, lesbian, bisexual and transgender people.'" He then adds: "Might I also suggest that you get serious about media alternatives like WND, the largest Christian news site in the world, the largest Christian content site in the world and one that is pledged, first and foremost, to telling you the truth?"
Wait, what? WND is a "Christian" website now?
It would appear so. WND's "about" page -- which, for some reason, has its own domain name. aboutwnd.com -- blares that it is "the largest Christian website in the world -- bigger than any ministry site, bigger than any Christian broadcast site, bigger than any Christian content site, bigger even than the Vatican's site."
That will come as a surprise to the folks at website tracker Alexa, which does not list WND in its top 100 Christian websites, nor is it listed in the 79 websites Alexa catetorizes as Christianity/News and Media.
And the idea that WND is "pledged, first and foremost, to telling you the truth"is utterly laughable, given the massive pile of lies WND has peddled over the years.
Farah piled on the false self-aggrandization in an April 1 column that's mostly about a reader named Chris who thought that WND's Chelsea Schilling was the reporter allegedly accosted by Donald Trump's campaign manager. He continued:
WND was launched 19 years ago as the very first independent online news agency. It was founded for the very reason Chris suggests – because the news media had lost its way, its sense of mission, its purpose and commitment to the facts without the bias.

From my standpoint, there are too many casual news consumers who are not using any discernment in reading the news, often jumping to conclusions and not really understanding the facts presented – let alone who is presenting them.

That's a real problem for news agencies like WND. How in the world do things get so twisted?
Because WND is contributing to the twisting of facts that Farah is ostensibly complaining about. Remember that WND has refused to publish facts that contradict its Obama birther conspiracy theories.
And when WND's readers do actually use discernment against WND, Farah gets all bent out of shape -- as when readers called out Farah's endorsement of Ted Cruz for president by pointing out that by WND's own standards as applied to Barack Obama, he's not eligible.
This all goes to credibility and truth -- something Farah and WND threw away in its obsessive attempt to destroy Obama and which they have yet to rebuild. There's a reason nobody believes WND, and pretending it's now a "Christian website" that has only ever cared about the truth is just one of them.
Posted by Terry K. at 12:18 AM EDT