WND Repeats Never-Proven Accusations of Censorship By Clintons
Topic: WorldNetDaily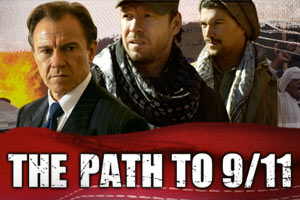 The death of Vince Foster isn't the only so-called Clinton scandal WorldNetDailiy will be trying to revive in its partisan attempt to stop Hillary Clinton from getting elected president -- now it's reviving a debate over a 10-year-old miniseries. A March 20 WND article by Bob Unruh begins:
Hillary Clinton's presidential aspirations may be threatened by a possible indictment over her email server, the loss of American lives in Benghazi and other scandals. But the Clintons still wield enough power to suppress a movie that reflects poorly on her husband's administration 10 years after the only time it was allowed to be seen.

"The Path to 9/11" was written by Cyrus Nowrasteh, who confirmed to WND this week that the Clintons ordered the five-hour documdrama to be quashed after it drew a stunning 28 million viewers when it was aired by ABC amid controversy.
Actually, Nowrasteh doesn't confirm anything, and he most definitely offers no proof to support what Unruh's article claims -- that the Clintons are "fiercely suppressing" a home video release of the 10-year-old ABC miniseries to this very day.
Unruh also lets Nowrasteh claim that his portrayal in the film of Clinton administration failures to capture or kill Osama bin Laden before 9/11 are "100 percent factually correct." It's not: As we documented at the time (along with others), it was quite inaccurate, making Clinton administration officials look as bad as possible. While Unruh touts that Nowrasteh "derived many of its scenes from the 9/11 Commission Report," one scene originally contradicted what the 9/11 Commission stated.
WND's pushing of such a fact-free claim tells us that the barrel of Hillary outrage it will be similarly flogging as the election draws near will be similarly devoid of substance.
Posted by Terry K. at 12:27 AM EDT