MRC's Tabloid Hypocrisy Continues
Topic: Media Research Center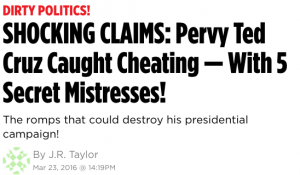 Is the Media Research Center still being hypocritical about the credibility of tabloids regarding the sex lives of presidential candidates? You bet it is.
The MRC continues to be aghast that the National Enquirer's report on alleged affairs by Ted Cruz though it demanded in 2008 that the media pick up tabloid reports of a John Edwards affair. Scott Whitlock huffs that "there's a complete lack of solid sourcing in the sleazy National Enquirer allegations against Ted Cruz," and Curtis Houck complains that late-night hosts are "promoting the smear as legitimate."
And as expected, Tim Graham and Brent Bozell devote an entire column to whining about it, harrumphing that "The National Enquirer's name in journalism is synonymous with factually unsupported drivel of the lowest kind. It is a sacred truth that no responsible journalist would reference the kind of garbage found in this tabloid" and further complaining about "the awful National Enquirer."
Funny, Bozell (and, thus, Graham since he was Bozell's ghostwriter at the time) didn't have that problem in 2008. In his column on the Edwards scandal, he hurled no epithets at the Enquirer for pedding "garbage" and "drivel," instead touting how "for months ... the National Enquirer has been trickling out the goods they collected on John Edwards having an affair and possibly a love child with campaign aide Rielle Hunter, staking out Edwards in a California hotel - and how he hid in the bathroom to avoid them." He went on to praise the Enquirer for having "dug out the Edwards affair."
And the MRC was desperate to promote the Edwards scandal at the stage that it was "factually unsupported drivel." As early as October 2007, it was demanding that "MSM" coverage of the Enquirer's reports on Edwards because "the mere allegation would be worthy of a media frenzy based upon its recent behavior."
However, the MRC is so dedicated to keeping up the double standard that MRC video guy and world's lamest fake transsexual Dan Joseph went out and "asked Americans" -- read: played man-on-the-street in front of the White House -- about the Cruz-Enquirer story, which he introduced this way:
Last week, America's most-famous tabloid newspaper, "National Enquirer," printed a story alleging that Republican presidential candidate Texas Sen. Ted Cruz has had extramarital affairs with multiple women throughout the course of his political career. Many of Cruz's detractors immediately took the story as fact and used it in an effort to derail his campaign.

Apparently, "National Enquirer" is now considered, by some, to be a legitimate source of political news and information.

MRCTV went to the White House and asked Americans what they thought of this shining beacon of journalistic integrity.
Joseph didn't tell the "Americans" he ambushed that his employer considers the Enquirer a "shining beacon of journalistic integrity" -- when they go after Democrats, anyway. But he does ask one person, apparently without irony, "Do you think it's a good thing that we're starting to have political discussions about stories that were broken in a tabloid like this?"
Posted by Terry K. at 5:59 PM EDT