A Letter to Terry Jeffrey
Topic: CNSNews.com
(ConWebWatch sent the following letter to Terry Jeffrey, CNSNews.com editor-in-chief. We'll let you know if we get a reply.)

Dear Mr. Jeffrey:

I read your June 22 CNS column asking whether an "outrageously provocative" photo of Ted Cruz issued by the Associated Press was an "accidental or deliberate" act. That inspired me to discuss a similar question with you as the head of your own news organization.

On May 16, CNS published an article (curiously credited only to "CNSNews.com Staff") about how President Obama is "marking the International Day Against Homophobia and Transphobia." Accompanying the photo is a three-year-old picture described as being taken from "The New York City Gay Pride Parade" featuring men dressed only in pink shorts.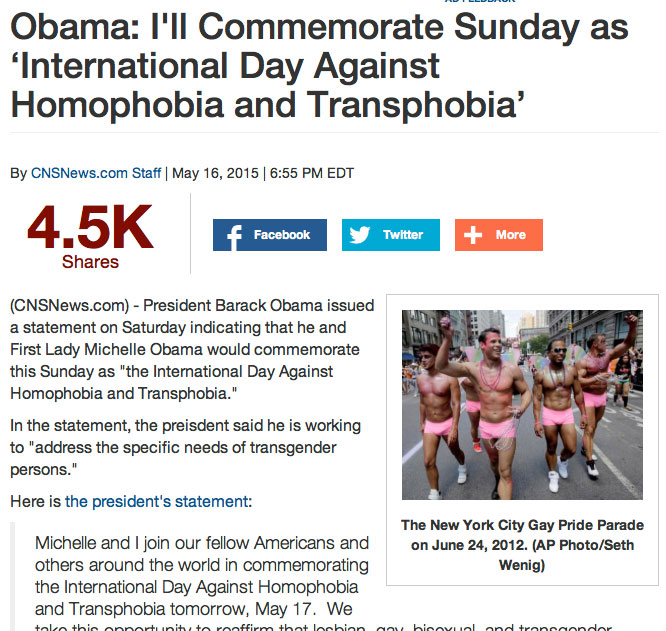 Surely you cannot deny that the choice to use this photo with this story was "outrageously provocative." My question to you is: Was it accidental or deliberate? Was that intended to portray President Obama and gays in a negative light -- an argument you ridiculed when the AP invoked it in reaction to criticism of the Cruz photo?

You state that "There is nothing subtle about these photos" -- just as there is nothing subtle about the photo used with the ultimately declared that "It is not not reasonable to conclude these photos were produced and published by accident." Is it similarly unreasonable to conclude that CNS' choice of photo for the May 16 article is an accident as well?
Was the decision not to credit the May 16 article to a specific writer an effort by CNS to shield the writer from criticism for being associated with such an outrageously provocative act?
In permitting such an outrageously provocative act to be posted on your website, are you engaging in a double standard by accusing the AP of doing what your website did?
You state the AP's issuance of the Cruz photo is an "example of liberal media bias," May we assume that CNS' choice of photo to run with the May 16 story is an example of conservative media bias?
Given that the three-year-old photo of the New York City Gay Pride Parade that CNS used for its May 16 article was also issued by the AP, doesn't that undercut your argument that the AP has a liberal bias?
Finally: If the AP is so profoundly biased to a view you (and your employer, the Media Research Center) apparently find abhorrent, why does CNS pay money to the AP to use its news articles and photos?

Sincerely,

Terry Krepel
Editor, ConWebWatch
Posted by Terry K. at 10:56 PM EDT