CNS Unemployment Numbers Distortion Watch
Topic: CNSNews.com
When the unemployment rate has dropped under the Obama administration, CNSNews.com is loath to put that in the headline, choosing instead to cherry-pick other numbers in an attempt to hide good news about the economy. But if that rate ticks back up, by golly, CNS is on the spot with the details.
Thus, the lead CNS story by Ali Meyer on May's employment figures has a headline that reads, "5.5%: Unemployment Rate Edges Up As More People Look for Work."
Meyer resorts to her usual cherry-picking for two other articles:
6,652,000: More Americans Working Part-Time, But Not by Choice
Rising: 25,098,000 Foreign-Born Workers Employed in U.S.A.
None of Meyer's articles mentionthe fact that 280,000 jobs were created in May. Can't give Obama any credit for something positive, y'know.
And Meyer's mildly xenophobic article on foreign-born workers is rather laughably illustrated with this image of migrant farm workers: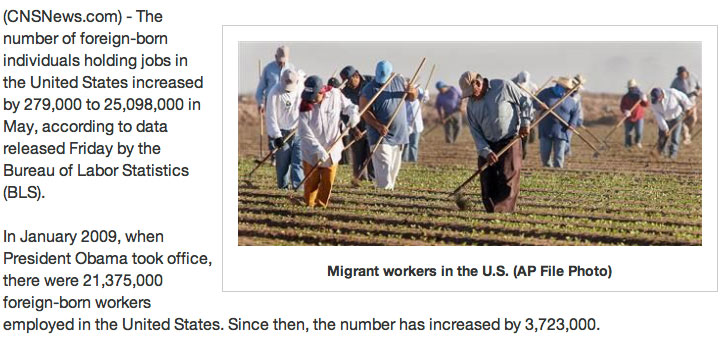 As if they were the only image Meyer and her CNS could think of when discussing "foreign-born workers." She ignores the foreign nationals who
work in high-tech industries
under special visas, for instance. They clearly don't fit into CNS' stereotype.
Posted by Terry K. at 1:50 PM EDT