WND's Unruh Peddles Discredited Anti-Transgender Propaganda
Topic: WorldNetDaily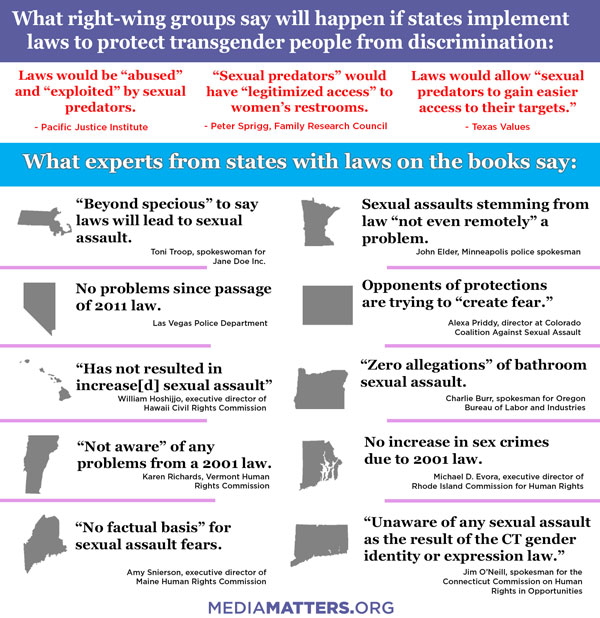 For WorldNetDaily, efforts to ban discrimination against transgenders has meant only one thing: co-ed showers and bathrooms (complete with
irrelevant images of Ferris Bueller
, for some reason).
But that scare tactic has been discredited. Media Matters details how experts in 12 states that have banned discrimination in public accomodations based on gender identity have reported no problems whatsoever with sexual assaults or any other crimes in connection with this accomodation.
But this is WND we're talking about here, and it loves to hide facts from its readers. A March 25 article by Bob Unruh provided an opportunity to WND to report actual facts on the issue of transgender rights.
Ah, who are we kidding? This is Bob Unruh we're talking about here -- the guy who won't report news that doesn't conform to his and WND's right-wing agenda.
Indeed, Unruh's article contains a false reference to "coed bathrooms" right in the headline and the first paragraph. Unruh goes on to laughably call the anti-discrimiation law in California a "sex indoctrination law," quotes only opponents of the law, and devotes several paragraphs to a completely unrelated California law honoring Harvey Milk.
Unruh doesn't say a word about how the anti-transgender fearmongering has been utterly discredited. But really, did anyone expect such a lazy, biased reporter to start doing his job now?
Posted by Terry K. at 8:59 PM EDT