MRC Tries, Fails To Blame Defective GM Cars on Federal Ownership
Topic: Media Research Center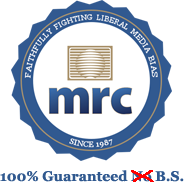 Sean Long tries his best to manufacture a controversy in a March 21 Media Research Center Business & Media Institute item:
When lives are lost due to a faulty product the media point fingers all the way up to the top of the company. Just not when the government owns the company.

The broadcast networks have aired 42 reports on the GM safety recall of faulty ignitions; malfunctions that resulted in more than 300 deaths. But in the course of their reporting, ABC, CBS and NBC only once said something that could remind viewers that GM was, for a time, Government Motors. More than half of fatalities occurred during the period of federal ownership of GM.

The networks' refused to criticise the government in GM stories, yet they insisted on blaming Mitt Romney for Bain Capital's actions throughout his candidacy. It is particularly egregious in the case of GM because many victims cannot pursue legal action against GM due to the terms of its 2009 bankruptcy.

While running 42 stories between the Feb. 13 recall and March 17, the broadcast networks have ignroed the federal government's bailout of General Motors 98 percent of the time (41 out of 42 stories), completely ignoring the fact that 176 fatalities occurred during the government's ownership.
But Long omits the fact that the vehicles that are a focus of the controversy were manufactured between 2003 and 2007 -- and, thus, before the government had any ownership interest in GM.
While there are reports that GM knew of the problem before issuing a recall, that too dates before government ownership of GM. The only thing that GM might be guilty of during government ownership is continued suppression of knowledge about the problem, but Long provides no evidence that any government official knew about it.
Long's attempt to liken the situation to Romney and Bain Capital is similarly misguided. The federal government did not create GM and, again, the defective cars in question were manufactured before the government took an ownership stake. By contrast, Romney was a co-founder of Bain Capital, and he continued to maintain an ownership stake for years after leaving the company's day-to-day management, and he continued to be described in SEC filings as "sole shareholder, sole director, Chief Executive Officer and President."
Posted by Terry K. at 10:27 PM EDT