WND Lets Steven Seagal Lie About Obama
Topic: WorldNetDaily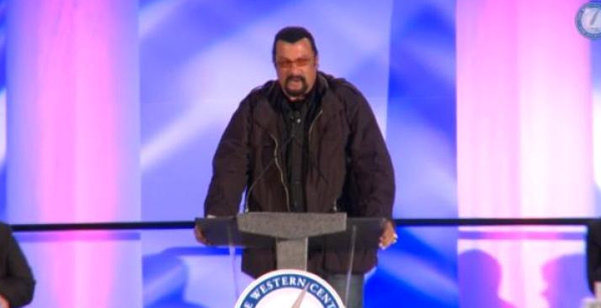 A Feb. 28 WorldNetDaily article quotes the following from a Steven Seagal speech at the rant-y and race-y Western Conservative Conference last weekend:
"Never in my life did I ever believe that our country would be taken over by people like the people who are running it this day," said Seagal.

"I think that when we have a leadership that thinks the Constitution of the United States of America is a joke, when we have a president who has almost 1,000 executive orders now, when we have a Department of Justices that thinks that any kind of a judicial system that they make up as they are going along can get by with whatever they decide that they want to do – like Ted Nugent said the Fast and the Furious, what's happening with the Fast and the Furious? What's happened with the truth about any of the greatest scandals of American history that have happened right before our eyes?" Seagal said.
In fact, as of January, Obama has issued only 168 executive orders, not "almost 1,000."
Seagal's misinformation appears to stem from a chain email that makes numerous false claims about executive orders. That WND didn't see fit to correct Seagal's falsehood is just another reason why nobody believes WND.
Posted by Terry K. at 12:37 PM EST