Overkill: CNS' Starr Has A Massive Margaret Sanger Freakout
Topic: CNSNews.com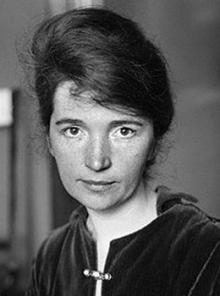 CNSNews.com's Penny Starr has long been guilty of using her so-called reporting to further her right-wing anti-abortion agenda. She has taken her political activism to absurd lengths this week.
The news that Planned Parenthood was planning to give Democratic Rep. Nancy Pelosi its Margaret Sanger Award prompted the expected reaction: a March 21 hatchet job headlined "Pelosi to Receive Planned Parenthood Award Honoring Eugenicist." Needless to say, Starr ignores the historical context of Sanger's views -- while eugenics is correctly considered reprehensible today, it was a mainstream view during much of Sanger's lifetime.
But for some reason, one attack on a woman who has been dead nearly 50 years was not enough for Starr. She followed that up with three additional articles cherry-picking Sanger's writings.
In a March 26 article, Starr highlights a claim that Sanger "wrote that large families would be doing what was 'most merciful' if they killed one of their infants." But Starr takes that statement out of context. As Planned Parenthood points out, "Sanger was making an ironic comment — not a prescriptive one — about the horrifying rate of infant mortality among large families of early 20th-century urban America."
Starr flip-flops in another March 26 article, suddenly portraying Sanger as a virtuous woman who opposed abortion, despite her two previous articles implying otherwise.
Starr goes back to implying Sanger supported abortion in a March 27 article, citing a statement calling some children "human weed," further implying the statement was racially motivated. In fact, as Planned Parenthood notes, Sanger never described any ethnic community as "human weeds."
It's this kind of sloppy, hate-motivated reporting -- writing four articles when no more than one was needed -- that's putting CNS on the path to WorldNetDaily-like irrelevance.
Posted by Terry K. at 1:25 PM EDT