WND Pretends Absurd Anti-Obama Attack Is Meaningful
Topic: WorldNetDaily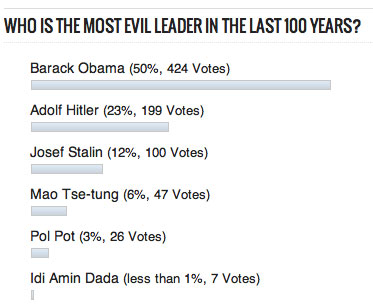 Joe Kovacs spends a March 5 WorldNetDaily article taking a fringe political candidate's smear of President Obama very, very seriously:
When it comes to his policies favoring gun control, President Obama is being compared to some of the most reviled names in history, including dictators such as Adolf Hitler, Joseph Stalin and North Korea's Kim Jong Il.

California State Assemblyman Tim Donnelly, a Republican candidate for governor, tweeted a message Tuesday featuring an image contrasting what he said were famous names who championed gun rights with those who have backed gun control.

"These people stood for gun rights," the image states, with portraits of George Washington, Thomas Jefferson, James Madison, Abraham Lincoln, Mahatma Gandhi and Martin Luther King Jr.

But when it comes to those who "stood for gun control," the names and faces include Hitler, Stalin, Kim, King George III of England, China's Mao Zedong and Barack Obama.

"Which side would you choose?" Donnelly said in his Twitter message he billed as a "history lesson."
Of course, it's simply absurd to suggest Obama has acted anywhere close to the likes of Hitler and Stalin, on gun control or any other subject. And WND has a lengthy history of likening Obama to Hitler and other Nazis.
But this is the sort of anti-Obama propaganda WND readers eat up, as demonstrated by the reader poll at the end of the article, which asks, "Who is the most evil leader in the past 100 years?" The winner is Obama with 50 percent of the vote, twice as much as Hitler. and four times as much as Stalin.
Of course, these dead-enders are the only audience WND has left -- since nobody else believes what it publishes -- so it must pander to them any way they can.
Posted by Terry K. at 9:20 AM EDT
Updated: Monday, March 17, 2014 9:25 AM EDT