WND's Murray Loves Russia Because It Reminds Him Of 1950s America
Topic: WorldNetDaily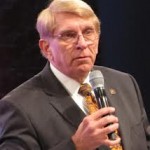 William Murray, who's working with Joseph Farah and Jerome Corsi on their right-wing super PAC (and who we previously remember blaming a train crash on homosexuality), has a new buddy, and along with many of his fellow WorldNetDaily writers, it's Vladimir Putin.
Murray writes in his March 12 WND column:
President Vladimir Putin of Russia is cast as an evil villain and blood-thirsty madman by the American media and politicians of both parties. Often, to demonize him they point out that he was once head of the old KGB (note that our own President George H.W. Bush once headed the CIA). In reality, Putin actually presided over the dismantling and reform of the old KGB.

Putin may be no Easter bunny, but he is a far better man and a far better human being than the fascist monarchs the United States supports in Qatar and Saudi Arabia. Let's remember that we are arming and supporting Islamic nations that stone people to death, have zero human rights and hold no elections at all, such as Saudi Arabia.

[...]

The attacks on Russia and Putin began before the Olympic Games in Sochi and have escalated over the issue of Ukraine. I was actually ashamed of conservative outlets such as Fox News that salivated over one overrunning toilet that was found by an Associated Press photographer at the Sochi games. (Apparently, no toilet has ever overflowed in Western Europe or the United States.)

Why do President Obama and the Western media have such hatred for Russia? What is all the Russia bashing really about?

In Russia the clergy are allowed to enter the schools to give instruction in the Bible. Prayer is allowed in the public schools in Russia, as well. It is against the law to sell or give pornographic literature to anyone under the age of 18. Marriage in Russia is allowed only between one man and one woman.

[...]

Why do Barack Obama and the liberal media hate Russia so much but have such love for nations that are anti-Christian and repressive such as Qatar and Saudi Arabia? Morally and spiritually, Russia today is the nation America was in the 1950s.
Apparently, Murray thinks that returning to the 1950s is a good thing.
Posted by Terry K. at 11:38 AM EDT