CNS' Loopy Rabbi: Soros Is A Jew You're Allowed To Hate
Topic: CNSNews.com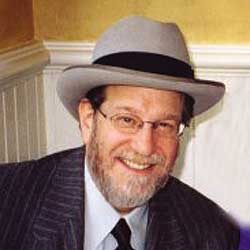 Loopy far-right rabbi Aryeh Spero was at it again, using an Oct. 22 CNS column to give conservatives a get-out-of-anti-Semitism-free card to explain why George Soros is a Jew right-wingers are allowed to hate:
The charge by Terry McAuliffe's supporters that his opponent, Glenn Youngkin, is anti-Semitic because he criticized George Soros is preposterous.

No person is beyond criticism simply because he is a member of a minority community. Mr. Soros actively and openly engages in politics and in influencing state and local governments and is, therefore, a legitimate object of criticism, especially concerning the left-wing policies he's tried to force on America through his massive underwritings. Thus, this accusation is just another dishonest attempt to win an election by playing the "anti-Semitism card." It is specious chutzpah.

Furthermore, those who point to Soros do so not because he is Jewish but because he is Soros, Soros being the most high- profile and effective opponent today of American traditional values. As is well-documented, he is by far the primary funder of radical leftist candidates and groups vowing to transform America into a transnational entity. Most people don't even know the ethnic background of George Soros.

Most ironic and disingenuous is casting Mr. Soros as a symbol of Jewish peoplehood when, in fact, Mr. Soros has spent a lifetime working against Israel's defense and Jewish survival and needs. He has been proud of his disassociation from the Jewish community. To make him into a Jewish martyr is ludicrous inasmuch as he has spent a lifetime distancing himself from anything identifiably Jewish.
Spero didn't mention that Soros critics have a bad habit of using anti-Semitic stereotypes to attack him (like CNS' parent, the Media Research Center, did in depicting Soros as a "puppet master") or that attacks on Soros tend to be central to anti-Semitic attacks on Jews. That's because Spero cares more about advancing right-wing narratives than about Jewish history.
Posted by Terry K. at 3:30 PM EDT
Updated: Wednesday, November 3, 2021 3:34 PM EDT