No, WND, The McAuliffe-Hillary 'Scandal' Did Not 'Explode'
Topic: WorldNetDaily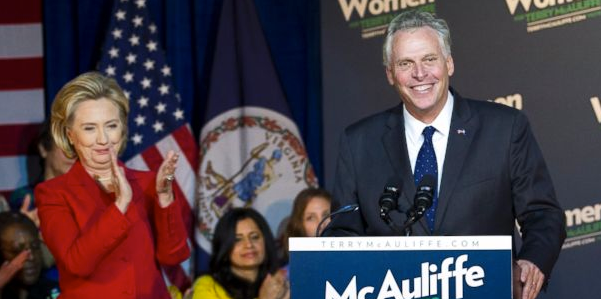 The Media Research Center wasn't the only ConWeb outlet to pounce on the bogus story of Terry McAuliffe-controlled PAC donating money to a Virginia legislative candidate whose FBI agent husband was later named to lead an investigation into Hillary Clinton's emails. WorlddNetDaily's Bob Unruh tried riding this story in an Oct. 26 article, with the screaming headline "MCAULIFFE-FBI-HILLARY 'PAYOFF' SCANDAL EXPLODES":
The WikiLeaks revelation that the wife of the FBI official who supervised the investigation into Hillary Clinton's off-the-books email server got a major campaign cash infusion from one of Clinton's friends just took a stunning new turn.

The London Daily Mail is reporting Hillary Clinton had raised funds for the political action committee that steered the contributions to the unsuccessful campaign of Democrat Jill McCabe.

McCabe's husband, Andrew McCabe, was promoted to FBI deputy director and supervised the investigation of Clinton not long after Virginia Gov. Terry McAuliffe, who through his PAC Common Good VA, contributed a total of $675,000 to Jill McCabe's long-shot bid for a congressional seat.

The Daily Mail reported Hillary Clinton headlined a major fundraiser for McAuliffe's PAC shortly before the group steered nearly $500,000 to Jill McCabe.
No, really. That's the "explosion."
Unruh, like the MRC before him, obscures one significant fact: McCabe's husband wasn't assigned to the Hillary email investigation until three months after she lost her election.
Unruh also fails to report the fact that McAuliffe's PAC gave out money to lots of candidates that year, two of whom received more money than McCabe.
Like the MRC, Unruh and WND are assuming that McAuliffe (and Clinton, apparently) knew future events months before they happened. Instead, they're just promoting another crazy Clinton conspiracy theory.
Posted by Terry K. at 12:41 AM EDT