MRC Joins Houston Pastor Subpoena Controversy Bandwagon
Topic: Media Research Center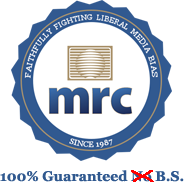 The ginned-up outrage over a subpoena for sermons by Houston ministers opposed to a non-discrimination ordinance is such that the Media Research Center is following in WorldNetDaily's footsteps by seeing political advantage in promoting it.
An Oct. 15 NewsBusters post by Ken Shepherd cranks up the outrage meter:
The Houston Chronicle reported yesterday that the city's liberal Democratic mayor has subpoenaed local churches whose ministers have been critical of the city's new "equal rights" ordinance. That law requires private businesses to permit transgendered persons to use the bathroom of the gender of their self-identity as opposed to their biological sex. Depending on how the law is interpreted and enforced, it could likely also apply to houses of worship.

[...]

At the very, very least, this is the work of an overly aggressive attorney who has little regard for the bad politics and bad PR involved. At the worst, it's a craven abuse of power by Mayor Parker which may be animated by hatred for conservative ministers who are critical not only of her policies but of her being a lesbian.
Shepherd didn't mention the salient fact that this subpoena request did not come out of nowhere, as he suggests, but is a discovery request in a lawsuit over the non-discrimination ordinance filed by the ministers and their right-wing representatives.
Shepherd even cites an opinion by conservative legal blogger Eugene Volokh stating that the subpoena is probably permissible, then dismisses it by declaring the request is "a fishing expedition."
MRC chief Brent Bozell then horned in on the discussion with a typically hyperbolic rant divorced from reality:
"When the government mandates what a pastor can or cannot say, and criminalizes preaching the Bible, we're no different than Red China. How in the name of God is that not national news?

"The freedom of religion, expressed at the pulpit, is a sacred right in this country. If you lose that, then religion itself is outlawed unless expressly approved by the state. This is unheard of in America. It is unconscionable that the 'news' media are suppressing this from the public."
We have no idea what Bozell is talking about. No pastor's speech is being censored and freedom of religion is not being threatened; what's being sought are statements that have already been made.
MRC apparatchik Dan Gainor also joined in the politically motivated fun:
"There was a time where journalists considered faith sacred. Now the LGBT community gets that treatment and Christians are ignored or abused by the press. A radical, left-wing mayor aims the full force of a major city on five pastors and demands 16 different types of information from them and … nothing. The networks spent more than 4 minutes on a movie about male strippers and a 'Hunks and Hounds' calendar instead.

"That's garbage journalism, designed so it doesn't offend the left-wing sensibilities of the so-called 'journalists' at the major networks."
Again, freedom of religion is not threatened. But Gainor is too invested in ratcheting up the controversy; his Oct. 16 column accuses Houston Mayor Annise Parker of engaging in an "anti-Christian jihad" and falsely insisted this is about "the religious liberty of five pastors" despite not offering any evidence that the pastors' "religious liberty" has, in fact, actually been violated.
The MRC's freedom to try and make hay off of ginned-up controversies, meanwhile, is unhindered.
Posted by Terry K. at 3:46 PM EDT