Newsmax's 'Special Article' In Parade Was An Ad
Topic: Newsmax
Last week, Newsmax sent to its mailing list a promotion for a Pat Boone-endorsed "heart rate monitor watch" that touted an upcoming appearance in the Parade magazine Sunday newspaper supplement:
We have some exciting news!

This weekend some 66 million Americans will read Parade magazine with their Sunday newspaper — and Newsmax will be there!

Parade is running a special article featuring the legendary Pat Boone and his big secret to staying young. Boone teamed up with Newsmax on the piece to come up with a special offer for our popular Heart Rate Monitor Watch!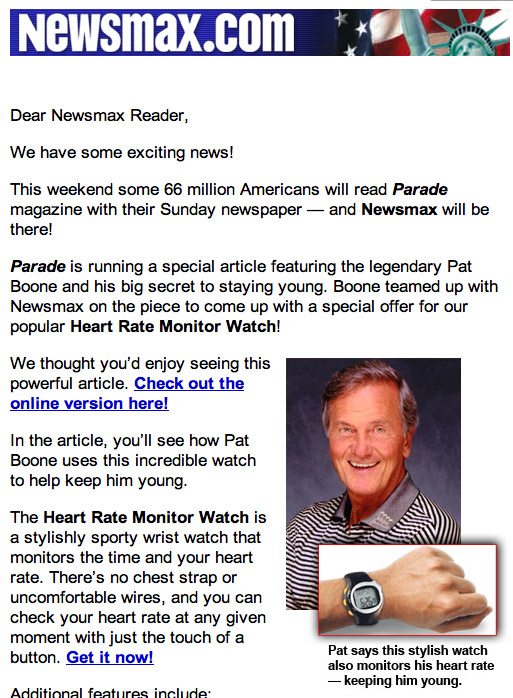 Well, the Sunday edition of Parade came, and the "special article" turned out to be ... an ad.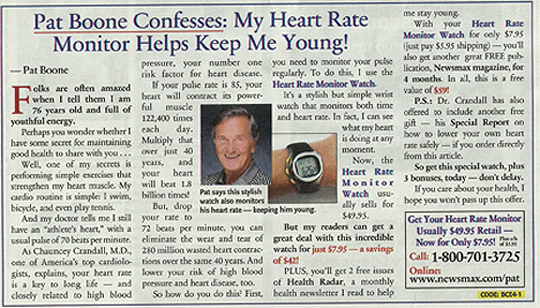 The text of the ad is posted on the Newsmax website. It's the usual loss-leader promotion Newsmax specializes in, selling the lead item cheap with trial subscriptions of various Newsmax publications thrown in for free -- which you must unsubscribe from in order to avoid being charged for a full subscription.
Newsmax presumably knows the difference between a news article and an ad, and it was dishonest of them to portray the Boone ad as a "special article."
Posted by Terry K. at 9:49 PM EDT