'ObamaCare Survival Guide' Book Is A Newsmax Operation
Topic: Newsmax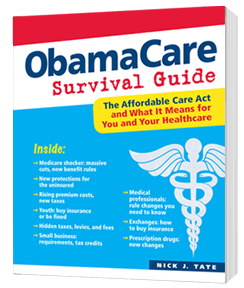 Over the past several weeks, Newsmax has been heavily promoting a book called the "ObamaCare Survival Guide." Unsurprisingly, it's a negative view of Obamacare, as Politico notes. Newsmax, however, doesn't want to tell you just how closely involved it is with the book.
You may have seen the commercial for Obamacare911.com. You may not know that Obamacare911.com redirects to a page at the Newsmax store for its usual loss-leader "special offer" with a few free issues of Newsmax magazine and a health newsletter thrown in (in the hope that you fail to cancel them so they can charge your credit card $39 each for a yearly subscription).
But Newsmax is even deeper with this book that it will publicly admit: Newsmax owns the book's publisher.
The publisher of the "ObamaCare Survival Guide" is Humanix Books, which claims to have been "continuously publishing since 1969, making it one of the oldest publishing houses in the South Eastern United States." Humanix's website makes no mention of its ownership by Newsmax.
But if you look at the copyright page in the "ObamaCare Survival Guide," there it is: "Humanix books is a division of Newsmax Media."
Why doesn't Newsmax want to promote the fact that it has a publishing division? It's not like it's anything new -- WorldNetDaily has operated a publishing operation for several years. Of course, WND Books does carry the taint of its parent -- something Newsmax is perhaps trying to avoid by pretending Humanix is completely separate.
Still, as it publishes more conservative-leaning books, as one can reasonably expect, expect Humanix to get that conservative-publisher reputation. Can it avoid the WND taint? We shall see.
Posted by Terry K. at 11:43 PM EST
Updated: Sunday, February 3, 2013 11:44 PM EST