MRC Doesn't Ask Where Crowdfunding Filmmaker Got Money for Billboard
Topic: Media Research Center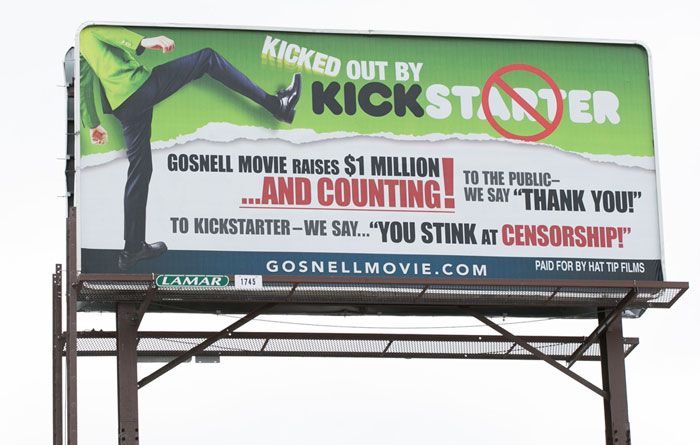 Phelim McAleer is apparently wasting his crowdfunding money designated to make a movie, blowing it on a billboard instead. And the Media Research Center couldn't be happier.
The MRC's Katie Yoder has served as one of the right-wing media cheerleaders for McAleer's crowdfunding campaign to make a film about rogue abortion doctor Kermit Gosnell. A May 1 item by Yoder keeps up the cheerleading, touting how McAleer "erected a billboard slamming Kickstarter – a half mile away from Kickstarter's headquarters in Brooklyn, New York," attacking the company for putting restrictions on McAleer's crowdfunding efforts. (McAleer's campaign moved to another site.) Yoder goes on to proclaim that "the Gosnell movie's Indiegogo campaign boasts more than $1.6 million raised with 16,500 funders – 76 percent of the $2.1 million goal."
One thing Yoder doesn't ask, however: Where did McAleer get the presumed thousands of dollars to erect a spiteful billboard? Did he take that money out of his crowdfunding pot, even though McAleer's little vendetta billboard has nothing to do with movie production? If so, did McAleer obtain permission from his donors to spend money on something other than movie production?
Yoder clearly doesn't want to know the answer. She's McAleer's PR agent, after all.
Posted by Terry K. at 1:03 PM EDT