Bozell vs. CPAC, Round 3
Topic: Media Research Center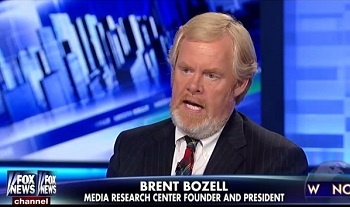 It's that time of year again -- when Brent Bozell picks a fight with CPAC.
This year, Bozell has thrown such a fit at the idea that an atheist group was invited to have a booth at CPAC that he spread his displeasure across the MRC empire:
"The invitation extended by the ACU, Al Cardenas and CPAC to American Atheists to have a booth is more than an attack on conservative principles. It is an attack on God Himself.

"American Atheists is an organization devoted to the hatred of God. How on earth could CPAC, or the ACU and its board of directors, and Al Cardenas condone such an atrocity?

"It makes absolutely no difference to me that CPAC and ACU have backed down and removed the booth. I am sick and tired of these games.

"I will continue to denounce CPAC, ACU and Cardenas. No conservative should have anything to do with this conference. If you do, you are giving oxygen to an organization destroying the conservative movement."
A couple points here:
What does Bozell's ideological spat have to do with the MRC's declared mission of hunting out media bias?
We thought Bozell didn't believe in censorship -- he has repeatedly accused the media of "censorship" for allegedly ignoring things that conformed to his right-wing agenda. Yet here he is, acting as a censor for CPAC. Hypocrisy much?
This is just the latest shenanigan Bozell has engaged in with CPAC:
In 2011, he and the MRC refused to take part in CPAC "because of the continued participation of the homosexual activist organization GOProud." He never bothered to announce this on his own network of websites, though -- he let WorldNetDaily have the scoop.
In 2012, he petulantly withdrew the MRC from CPAC because he wasn't granted a suficiently prominent speaking slot.
Bozell's tantrum paid off because he got his desired speaking slot the following year, which he used to expand his Heathering to the entire Republican Party.
As long as Bozell continues to use the MRC as a cudgel to advance his personal political agenda instead of a tool to help Republicans, this war will continue for some time to come.
Posted by Terry K. at 11:59 AM EST