CNS' Starr Has Another Anti-Gay Freakout
Topic: CNSNews.com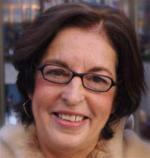 Penny Starr is CNSNews.com's lead homophobe, and she shows it again in a pair of recent articles.
Starr used a Feb. 24 CNS article to inform us that "Former Olympic figure skating champion Johnny Weir has not tried to hide his homosexuality as NBC's daytime figure skating analyst. He has worn bright pink and huge, sparkling jewelry as he and former champ Tara Lipinski commentated on this year's skaters at the 2014 Winter Olympics in Sochi, Russia." Because wearing flashy clothing could only mean that Weir is gay.
In another Feb. 24 article, Starr complains that an "American Idol" contestant has two moms:
MK Nobilette is "making history" as the first openly lesbian contestant on "American Idol," but she is also the first contestant to have two lesbian mothers supporting her in the audience.

Nobilette, 20, was selected to go to Hollywood during the San Francisco, Calif., audition, where she lives with her girlfriend. On Thursday, she was named as one of the Top 13 on the show.

[...]

A Feb. 19 article on the 429 website noted Nobilette's "two mothers."

"Following her first performance of John Legend's 'All of Me' on Tuesday, February 18, the San Francisco-raised Nobilette received a standing ovation from the crowd—which included her two mothers, one of whom was unable to hold in happy tears," the article stated.
Starr must have had to work hard to find a news article that mentioned Nobilette's parents so she could work up the proper outrage. 429 is not even a news organization per se -- it's a website serving as "a go-to destination for the LGBTA professional set." It probably pained Starr to comb through that website as it did to say something positive about a gay person.
Starr ironically closes the article by quoting Nobilette as saying of her sexuality, "I hope in 10 years we won't even have to talk about this." Not if Starr and CNS have anything to do with it, and continue to feel they can get away with creating opportunities for their right-wing audience to mock and slander gay people -- as the comment thread on both articles indicate.
Posted by Terry K. at 1:59 PM EST
Updated: Thursday, February 27, 2014 2:16 PM EST