WND Parrots Questionable Witness Testimony On Purported Election Fraud
Topic: WorldNetDaily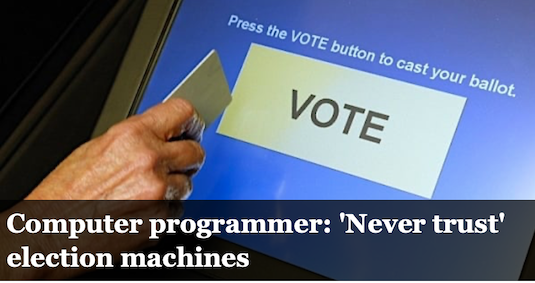 WorldNetDaily continues to promote false narratives about election fraud, despite an utter lack of credible evidence. Bob Unruh cranked out this Luddite gem for a Feb. 17 article:
A computer programmer who previously has testified to Congress on the integrity of voting machines has warned lawmakers in Arizona never to trust them.

"Don't use machines, because you can never, ever trust them to give you a fair election. There are too many ways to hack them. You can hack them at the level that I did when you first build them, you can hack them from the outside, you can hack them with programs that load themselves on the side. It's impossible to secure them. You will never beat the programmer. The programmer always owns the universe," explained Clinton Eugene Curtis to the Arizona Senate Election Committee, a report from the Tennessee Star said.

He's a Democrat to has worked as a programmer for NASA, the Department of Defense and other government agencies. He had testified in 2007 to the U.S. House Judiciary Committee that he could program voting machines so he could manipulate the results, and he'd never be detected.

His testimony included confirmation that he could use only a few lines of code to change the results of an election.

"He said county election officials would not be able to detect it unless they had access to the source code or could compare the count to the paper ballot count," the report explained.

He said, "Nothing happens on that machine that the programmer doesn't make happen. … I control the vote, you guys don't. I'm here to address the lies and to show basically, how my program works and how any other program can work."

He said, "Twenty-four lines of code can change it and there's nothing you can do. You can't catch it. You can't find my module, and it can erase itself right after it does."
The article by the right-wing Tennessee Star on which Unruh's article is based was written by Rachel Alexander, a WND columnist and election denier. In it, she attached a video of what she called "2007 testimony to Congress" about election fraud (which Unruh uncritically repeated, because he doesn't fact-check anything that echoes his employer's narratives). In fact, as a real fact-checker found, the video is from 2004, and Curtis' main accusation during the testimony was that he accused Republican then-state representative (and later congressman) Tom Feeney of paying him to write a program. According to the fact-checker, Feeney denied any knowledge of the software or even meeting Curtis --who ran against Feeney in 2006 -- and Curtis himself says he has no knowledge that the software he claimed to have written was ever used.
Meanwhile, another media outlet more interested in facts pointed out that at the time of the purported scheme 2000, Florida didn't use electronic voting, and that a computer expert noted that there is no such thing as "one-size-fits-all software" and that a programmer would have to have specific knowledge about a specific vendor's system and software -- which Curtis didn't have in 2000 because electronic voting wasn't used in Florida until two years later.
Needless to say, none of this appears in Unruh's article -- he simply parrots the stenography Alexander did in her article. Is that the kind of "journalism" WND thinks readers should pay it for?
Posted by Terry K. at 6:52 PM EDT