MRC Loved 'Dilbert' Cartoonist's Right-Wing Leanings -- But Is Silent On His Racism
Topic: Media Research Center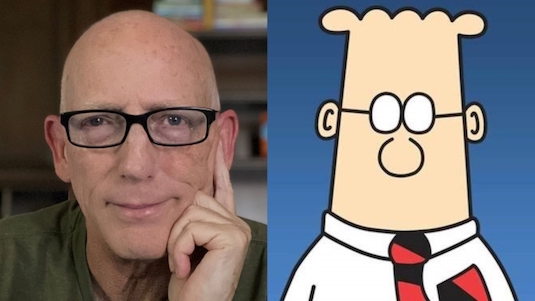 Even before it published an error-ridden post last September falsely claiming that his "Dilbert" comic was dropped by a newspaper chain for making fun of liberals, the Media Research Center was a longtime champion of the right-wing turn of cartoonist Scott Adams:
Then came last month, when Adams went on a racist tirade (which would seem to show that the manipulated Nazi images were merely prescient) that caused his comic to be dropped by hundreds of newspapers. Neither Gladnick nor anyone else at the MRC has referenced this incident or Adams since -- not even to denounce Adams even though that would be the easiest thing in the world to do. It was also silent when Elon Musk defended Adams in a tweet he later deleted -- which also would have been an easy layup.
Then again, the MRC had a lot of trouble criticizing Kanye West for his turn to anti-Semitism after spending years praising his right-wing-friendly pronouncements.
Posted by Terry K. at 1:54 PM EDT
Updated: Monday, March 20, 2023 8:09 PM EDT