As Bad News Piles Up, MRC Remains A Musk Cheerleader
Topic: Media Research Center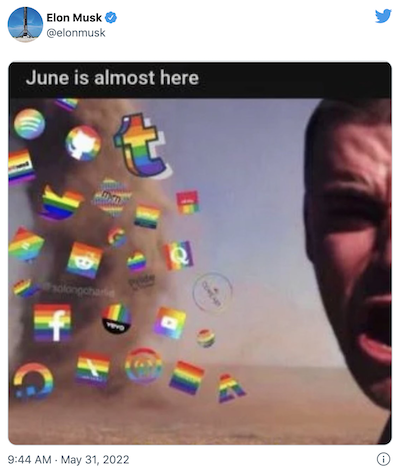 The Media Research Cener has been an enthusiastic cheerleader of Elon Musk and his bid to buy Twitter -- so much so that his coziness with China, which the MRC used to deplore has been shoved down the memory hole. But as Musk's Twitter deal stopped looking so brilliant -- and Musk himself stopped looking so brilliant -- the MRC still played sycophantic cheerleader for Team Elon.
A May 18 post by Autumn Johnson drily wrote about how Twitter was planning to "enforce" its deal with Musk to buy Twitter at the agreed price of $54.20 a share, but was silent on one big reason why Twitter would feel the need to enforce the deal: Twitter's stock price had dropped precipitously, from $51.20 on April 25, the day after the deal was announced, to $36.85, the day of Johnson's post. Instead, Johnson helped Musk raise a new distraction about the number of fake and spam accounts on Twitter.
The same day, Gabriela Pariseau rant to Musk's defense on another issue:
Guerrilla journalism outfit Project Veritas reportedly caught an alleged Twitter employee trashing free speech and claiming Elon Musk has Asperger's Syndrome.

Project Veritas released another video Tuesday as part of its "Twitter Exposed" series. Alex Martinez, purportedly Twitter's lead client partner, reportedly told a Project Veritas undercover journalist that Twitter employees "believe in something that's good for the planet, and not just to give people free speech." The video purportedly shows Martinez calling Musk "a loony tune" and alleging Musk has Asperger's syndrome.

[...]

Martinez went on to mock Musk, claiming he was on the autism spectrum. "Elon Musk as a person is whatever… like he's a loony tune, he has Ossbergers, Asperger's. So he's special. We all know that and that's fine," Martinez said in the video. "I'm like, you're special needs–you're literally special needs. Literally, though, you really are. So, I can't even take what you're saying seriously. 'Cause you're special."
Never mind, of course, that Musk himself has admitted that he has Asperger's syndrome and that his erratic public behavior is fair game for comment -- after all, the MRC's "news" division, CNSNews.com, believes rampant speculation about President Biden's purported mental state is fair game. Hilariously, Pariseau called on verbally abusive serial plagiarizer Benny Johnson to defend Musk.
Johnson used a May 22 post to engage in a Trumpian victimization defense of Musk after it was reported that his SpaceX paid a $250,000 settlement to a flight attendant who said Musk harassed her:
Tesla CEO Elon Musk said the left is out to get him after he announced he would vote Republican.

Musk responded to a story from Insider that alleged he sexually propositioned a flight attendant. He said the left personally attacked him for his commitment to free speech as well as his declaration that he would vote Republican from now on.

"They began brewing attacks of all kinds as soon as the Twitter acquisition was announced," he tweeted. "In my 30 year career, including the entire MeToo era, there's nothing to report, but, as soon as I say I intend to restore free speech to Twitter & vote Republican, suddenly there is …"
Johnson somehow forgot to mention that a six-figure settlement was paid to the flight attendant, which sure looks a lot like an admission of guilt.
The MRC continued to serve as the PR agency for Musk's ramblings and PR bulldog to attack his critics:
The MRC didn't mention that it sure looks like that Musk was spreading all that right-wing clickbait as a distraction from the bad news.
The MRC even rushed to Musk's defense over an anti-LGBT meme Musk tweeted, in a June 1 post by Wallace White:
Every time pride month rolls around the establishment and corporate America waste no time in declaring their love for the LGBT cause by changing their logos to a rainbow rendition. Musk decided to poke fun at the sudden onslaught of multi-colored logos that recurs like clockwork every year, and the liberals and LGBT on Twitter were quick to ruin the fun for everyone.

It doesn't take a detective to realize that musk's companies were guilty of it too. The left took this information and ran with it, treating it as a "gotcha!" moment for Elon haters. Predictably, the humor of it all was lost on liberals on Twitter, and they could not possibly fathom that Elon could take a joke even at his own expense.

[...]

The meme simply acknowledges that corporate America regularly uses woke messaging to pander to LGBT customers. The meme doesn't mean that Musk hates gay people. The predictability of the annual display of rainbows is something worthy of poking fun at because of its clear superficiality. Leave it to liberals to suck all the laughter and fun out of a good joke and take everything so seriously. Maxwell Adler of Bloomberg was not laughing, which means, of course, that no one else can laugh. When you point out that LGBT causes have the backing of massive corporate power, even superficially, the left goes into meltdown mode.

The liberals have made it clear: no fun allowed on Twitter if I'm the butt of the joke. It shouldn't be surprising that they would take a silly meme personally and lash out at Musk. They've been on the crusade against comedy for years, and this is simply another incident to add to the list.
But Wallace offered no evidence that Musk acknowledged that he was making a joke at his own expense or that he even knew that his own companies participated in what he was mocking. But it fits right in with the MRC's homophobia, so White did his best to make it fit the narrative.
Posted by Terry K. at 10:29 PM EDT
Updated: Friday, June 17, 2022 6:03 PM EDT