Trump's New Spokesperson Is A Former CNS Reporter
Topic: CNSNews.com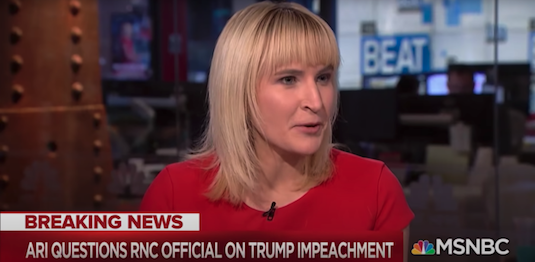 The Media Research Center loves to whine about the "revolving door" between the media and politics -- but only when it involves the "liberal media," not Fox News and the Trmp administration, and most definitely when it involves its own "news" division, CNSNews.com. We've documented how the revolving door works at CNS, and its current editor, Terry Jeffrey, is a former political operative, having worked for Pat Buchanan's presidential campaigns in the 1990s.
The current beneficiary of that revolving door is Liz Harrington, Donald Trump's new spokesperson and former spokesperson for the Republican National Committee. But from 2011 to 2013, Harrington was a reporter for CNS.
We've caught Harrington pushing bias during her tenure. She was one of the original reporters who added right-wing spin to CNS' unemployment data reporting, and she wrote several articles suggesting that any government money spent on researching LGBT-related issues was a waste.She also ambushed Sandra Fluke with a question about vulgarities used against Sarah Palin while censoring the fact that Rush Limbaugh used vulgarites against Fluke, and she misleadingly wrote about light bulb efficiency standards. We also busted her pushing a highly misleading claim about the number of food stamp recipients and putting words in a government official's mouth (more than once).
So, yeah, there's a fundamental dishonesty there that makes her a perfect spokesperson for the fundamentally dishonest Trump. Just don't expect the MRC to mention this the next time it rants about "revolving doors."
Posted by Terry K. at 12:22 AM EDT