CNS Touted Record Low High Temp In DC -- But Censored News Of Record Heat
Topic: CNSNews.com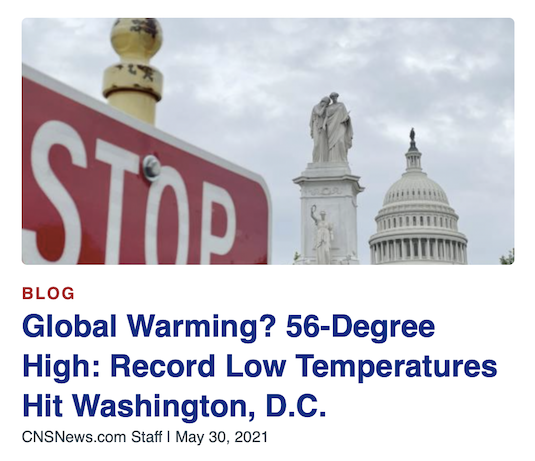 An anonymous CNSNews.com reporter wrote in a May 30 article:
Record low temperatures are hitting the Washington, D.C. area this Memorial Day weekend, according to the National Weather Service.

On Saturday, according to NWS, the Baltimore Washington International Airport recorded a record-low daily "high" temperature of 56 degrees. The previous record had been 57 degrees. BWI is located south of Baltimore, Md., and about 32 miles north of the U.S. Capitol building.

"The new record low high of 56 degrees broke the old record of 57 degrees set in 2014," said the NWS report.
The article carried the headline "Global Warming?" -- as if a two-day blip in a single city disproved decades of research proving that the entire planet is indeed warming.
By contrast, when a heat dome appeared over the Pacific Northwest, resulting in all-time record high temperatures, CNS reported absolutely nothing about it, completely censoring that news from its readers.
Why? Because CNS is beholden to right-wing interests and oil and gas companies who deny that global warming exists. Not only has its parent, the Media Research Center, received donations from oil companies (not to mention oil and gas financier T. Boone Pickens), it has published numerous articles that advance the agenda of the oil and gas industry.
So CNS' bias once again favors those who give it money. Is anyone surprised?
Posted by Terry K. at 1:11 AM EDT