Facebook 'Whisteblower' Touted By MRC Is A Proud Boys Fan
Topic: Media Research Center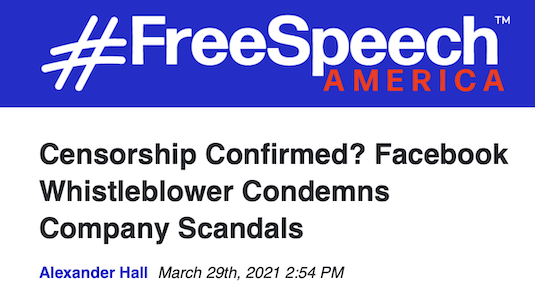 The Media Research Center's Alexander Hall touted in a March 29 post:
Facebook whistleblower Cassandra Spencer wrote an exposé about the platform with damning claims of anti-conservative meddling.

The whistleblower who had contracted at Facebook had her life turned upside down after exposing Big Tech bias against conservatives at Facebook. Her tell-all book, "Impact: How I Went behind Enemy Lines in Our Struggle against the Far Left,'' made some devastating allegations.

"[A]fter a few weeks on the job in Texas, she said she noticed that some profiles and pages were secretly marked in a way that would reduce the reach of their live videos," Fox News reported. "She said in the following weeks she saw a pattern, and she only noticed such flags on pages belonging to conservatives, not to any liberals. And that they were hidden from the account holders."

Spencer then reportedly reached out to guerilla journalism outlet Project Veritas and began to wear a hidden camera. Facebook reportedly fired her shortly afterward.
Hall did admit that Facebook said Spencer lost her job because she chose "to perform a stunt for Project Veritas." But Hall didn't mention how far-right Spencer is. The New Republic wrote of Spencer's later role in Project Veritas "Gold Mine" project, in which operatives tried to embed themselves in the campaigns of Democratic candidates as moles during the 2020 election:
Cassandra Spencer, the Gold Mine operative who targeted the Warren and Sanders campaigns—and, based on an internal review of Biden staffers and volunteers, shadowed one of their campaign events just before the Iowa caucuses—called herself a "Proud Boys' Girl" and retweeted Michelle Malkin saying "God Bless the #ProudBoys." That means that, of Project Veritas's four infiltrators, at least two declared support for the group.
that seems relevant, given the Proud Boys' role in the violent Jan. 6 Capitol riot. But Hall didn't think so.
Two days later, Kayla Sargent gushed that "Former Facebook employee Cassandra Spencer wrote an exposé that alleged anti-conservative bias within the company." But she too failed to mention taht Spencer is a Proud Boys fangirl.
The MRC has a bad habit of lionizing far-right extremists who purport to be whistleblowers against the "big tech" companies they hate.
Posted by Terry K. at 3:51 PM EDT