MRC Psaki-Bashing, Doocy-Fluffing Watch, 'Clown Show' Edition
Topic: Media Research Center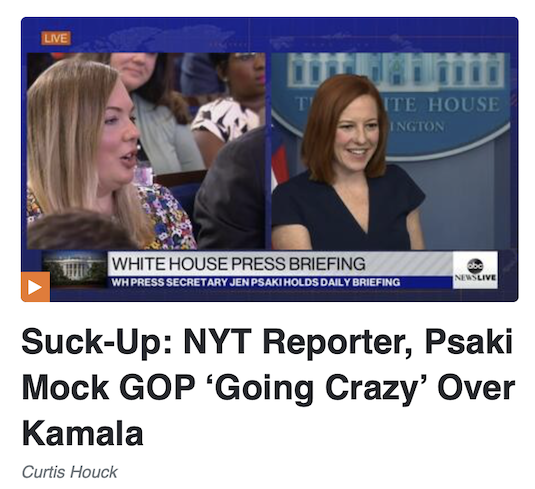 In Media Research center writer Curtis Houck's highly biased and partisan worldview -- one he gets paid well to espouse -- White House press secretary Jen Psaki is evil personified, and biased, hostile reporters like Fox News' Peter Doocy are heroes who are always logical and serious and certainly not clowns or carnival barkers (his favorite alleged insult for CNN's Jim Acosta, who was no more abrasive or hostile than Doocy is).
So, when Houck decided to feature non-right-wing reporters for the June 7 briefing, his headline screeched "The Clown Show Is Back!":
The White House Briefing Room returned to full capacity for Monday's Psaki Show and with that, Trump era carnival barkers such as Breakfast Media's Andrew Feinberg, Playboy's Brian Karem and The Grio's April Ryan made sure to have seats. Along with fellow far-left reporter Yamiche Alcindor of PBS, they bashed former President Trump and trumpeted the disastrous For the People Act.

National Security Adviser Jake Sullivan made a guest appearance at the start and Ryan was there to lob softballs with her first question complaining that Russian President "Vladimir Putin has already smeared [President Biden's] name" and then suggesting passing the For the People Act was a necessity to national security.
Houck further displayed his lack of seriousness and professionalism by repeating a fellow right-winger insulting Alcindor as "the White House press corps's most useless reporter." But Houck made sure to suck up to his man-crush, touting how "Doocy decided to show up with excellent questions about holding China accountable and Biden not speaking or tweeting about D-Day."
Speaking of sucking up, Houck unironically accused non-right-wing reporters of doing just that in writing about the June 8 briefing:
With Tuesday serving as the final White House press briefing for at least week due to President Biden's trip to Europe, liberal reporters had one more chance to perform for the cameras and/or suck up to Press Secretary Jen Psaki. Unfortunately, PBS's Yamiche Alcindor,The New York Times's Katie Rogers, and The Grio's April Ryan seemed to be more like CNN's Brian Stelter than, say, Fox's Peter Doocy.

After Ryan hammered Psaki from the left about the right for Black Americans to vote being in peril, Rogers tag-teamed with Psaki to mock conservatives and Republicans as having "[gone] crazy" and got "worked up" over Vice President Kamala Harris's comments about the U.S./Mexico border as well as her NBC interview.

Rogers began with a series of climate change and infrastructure questions, but that was merely lip service to what she seemed most enthused about: trashing the right.
We don't remember Houck ever complaining when his beloved Kayleigh McEnany used White House press briefings to trash liberals -- in fact, he reveled in it. Houck also sucked up to Doocy again, declaring that he "came ready to ask questions that actually advance the ball down the field." Of course, Houck means that they advance right-wing narratives.
Houck's all-too-predictible rants, hate and man-crushing have more than amply demostrated who the real clown is here.
Posted by Terry K. at 6:10 PM EDT
Updated: Sunday, September 12, 2021 2:13 PM EDT